'A Haunted House' Trailer: Marlon Wayans Spoofs 'Paranormal Activity'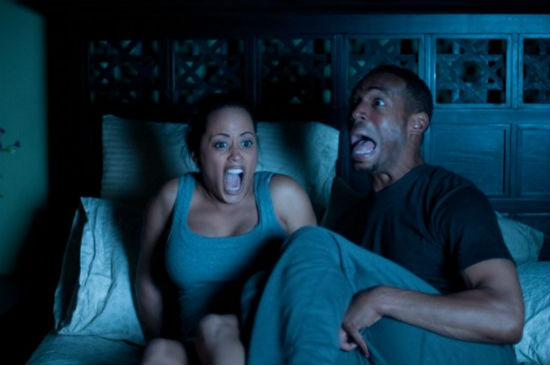 Twelve years ago, the Wayans Brothers started a new chapter in comedy history with their spoof comedy Scary Movie. Poking fun at the horror films of the day, the film was a massive success. It spawned three sequels (with a fourth on the way) and influenced innumerable, lesser quality ripoffs. Since then, though, the horror genre has changed. Things are much more centered on found-footage concepts. So Marlon Wayans has packed up his family legacy and created A Haunted House, a hard-R rated comedy spoof of Paranormal Activity.
First time filmmaker Michael Tiddes is directing with Wayans producing and co-starring alongside Nick Swardson, Cedric the Entertainner, David Koechner, Essence Atkins and others. It'll be released on January 11 and you can watch the first trailer after the jump. Be warned though. It looks really terrible.
Thanks (I guess?) to Yahoo Movies for the trailer.
I'm going to try to be positive here. With an R-rated movie, it's hard to truly sell a movie in a green band trailer. Plus the idea of the couple teaming up with the ghost to do certain things, like dragging them down the hall or smoking weed, is clever and funny. But all the fart jokes, ball jokes and stereotypical characters are incredibly tired. That won't matter though. The film will be the only comedy spoof in theaters when it's released early next year and will almost certainly do well.
However, while the Paranormal Activity series works because of a built-in tension, if that tension is replaced with humor, will the story and concept still work? It remains to be seen. Do you think A Haunted House will spawn multiple sequels like the two films it's influenced by: Scary Movie and Paranormal Activity? Do you expect to see a lot of other movies referenced in it?