'Skyfall' Bits: New Trailer, Videoblog And Poster; Producers Say Bond Won't Go 3D; Sam Mendes Inspired By 'Dark Knight'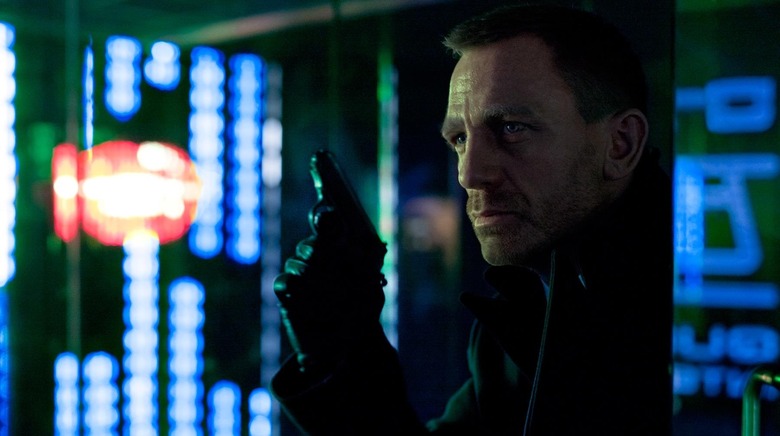 It's been a long four years since Quantum of Solace, but having seen Skyfall I can attest that it's more than worth the wait. Now, with the film's October 26 UK release and November 9 US release just around the corner, Sony / Columbia's marketing team is turning up the heat with a new trailer, a new video production diary, and a new IMAX poster.
The cast and crew, meanwhile, are doing the press rounds, and a couple of interesting tidbits have slipped out. Producers Barbara Broccoli and Michael G. Wilson revealed in a recent interview that there were no plans to take 007 into the third dimension, while director Sam Mendes name-checked Christopher Nolan's Dark Knight films as a direct inspiration for Skyfall. Read their comments and watch the new videos after the jump.
[via YouTube]
Something about the way the trailer is cut feels a little sloppy to me, but the fantastic action speaks for itself. It also offers some very tantalizing glimpses of the film's new characters, including Javier Bardem's Silva — who, mark my words, will go down in Bond history as one of the all-time classic baddies.
Next up is a new video diary from the set, this one about the the iconic score. Thomas Newman takes over as composer on Skyfall, replacing David Arnold, who had the post on the last five Bond movies.
[via The Playlist]
Sony / Columbia has also unveiled a new IMAX poster for Skyfall. Simplicity seems to be the name of the game on all of the Skyfall print marketing, but this one strips away even the title, leaving us with just a striking image of an impeccably dressed Daniel Craig and his trusty Aston Martin against the London skyline.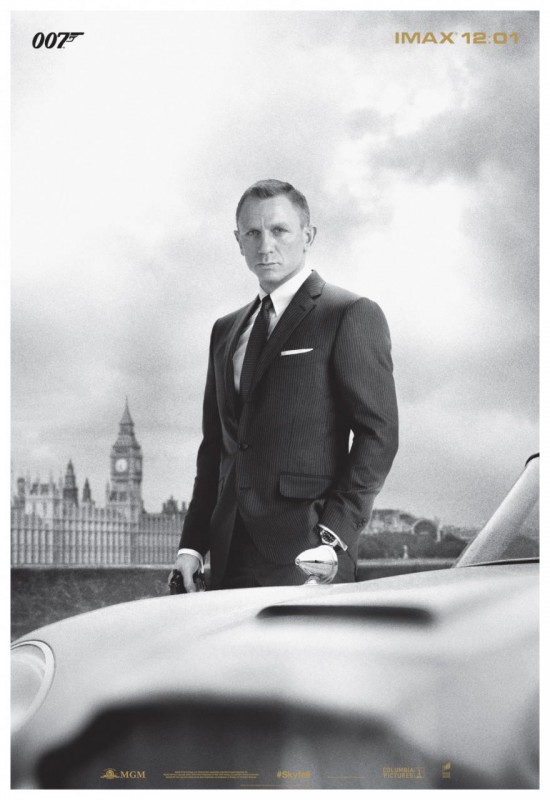 In North America, Skyfall opens November 8 in IMAX — one day ahead of its non-IMAX November 9 release. [via Coming Soon]
One of the James Bond franchise's most enduring strengths is its ability to reinvent itself to suit each new era, but producers Broccoli and Wilson say there's one newfangled cinematic trend they have little use for.
"3-D is fantastic for the right material, but we're not sure Bond is the right way to go," Broccoli said in a recent interview. "With our movies, there's a lot of challenges to 3-D, particularly when you've got a lot of action and a lot of quick cutting."
The producer continued: "It has to be right for our story... Unless you can do something as well as ('Avatar'), it's probably not worth looking at." After all the truly shoddy 3D we've been subjected to over the past several years, that's music to our ears.
Broccoli's co-producer and half-brother Wilson added that there's been some interest in post-converting some of the older Bond movies to 3D, but said called it "more of a novelty." Still, Broccoli and Wilson aren't ruling anything out entirely. Though neither of Craig's next two Bond outings are being planned as 3D pictures, "Who knows?" Broccoli said. "We'll see if things change in the future." [CTV News]
More than a few critics could be heard remarking after Skyfall's early screenings that the film was reminiscent of Christopher Nolan's Dark Knight trilogy. As it turns out, that's no coincidence. Speaking with The Playlist, Mendes acknowledged that he was "directly inspired" by Nolan's movies.
"In terms of what [Nolan] achieved, specifically The Dark Knight, the second movie, what it achieved, which is something exceptional. It was a game changer for everybody," he said. The filmmaker continued:
We're now in an industry where movies are very small or very big and there's almost nothing in the middle. And it would be a tragedy if all the serious movies were very small and all the popcorn movies were very big and have nothing to say. And what Nolan proved was that you can make a huge movie that is thrilling and entertaining and has a lot to say about the world we live in, even if, in the case with 'The Dark Knight,' it's not even set in our world.
It felt like a movie that was about our world post-9/11 and played on our fears and discussed our fears and why they existed and I thought that was incredibly brave and interesting. That did help give me the confidence to take this movie in directions that, without 'The Dark Knight,' might not have been possible. Because also, people go, 'Wow, that's pretty dark,' but then you can point to 'Dark Knight' and go 'Look at that – that's a darker movie, and it took in a gazillion dollars!' That's very helpful. There's also that thing – it's clearly possible to make a dark movie that people want to see."
To be sure, Skyfall is very much it's own thing; it's not just a Dark Knight retread. But there are definitely worse movies to take inspiration from.