The Iam8bit Gallery Opens Two Pop Culture Art Exhibits Oct 26: Evanimal And Senor Chips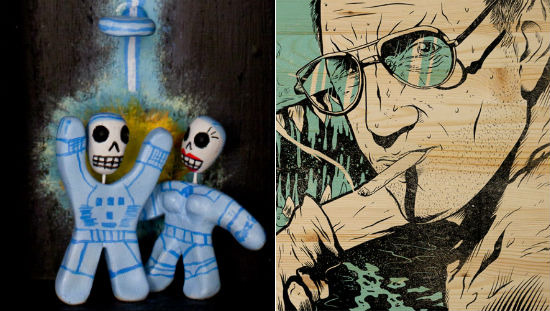 The world-famous iam8bit Gallery in Los Angeles, California is opening not one, but two incredibly cool pop-culture art exhibits next week, and /Film is proud to exclusively debut some of the art.
"Fast Cards, Rugged Men and Bad Broads" is a solo show by noted illustrator and artist Evanimal (real name Evan Yarbrough) whose works in this exhibit transfer his unique, almost graffiti-like visual style to wood, with subjects ranging from Pulp Fiction to Jaws, James Bond and more.
The second exhibit features the incredibly distinct and unique work of Senor Chips, in a collection called "Hecho en el Norte." Chips has taken familiar pop culture icons (such as Tron, Nightmare on Elm Street, Beetlejuice, and Big) and re-imagined them in "Day of the Dead" dioramas.
Both exhibits open simultaneously at 7 p.m. October 26 at the iam8bit Gallery in Los Angeles and remain on display though November 11. After the jump, find out all the particulars and check out several images from each show.
Here's several images by Evanimal and Senor Chips; the styles are pretty distinct so I think you'll be able to tell which is which. The final two photos are the official flyers with all the info.
Again, both opening receptions are from 7-11 p.m. October 26 at the  iam8bit Gallery, 2147 W. Sunset Blvd, Los Angeles CA.Click here for their regular business hours.
I have to say, while Evanimal's style is more in my general wheelhouse, Senor Chips' juxtaposition of film with such a funny medium really strikes a chord. For example, in my life I could fathom seeing a beautifully rendered piece of art depicting Mia Wallace overdosing, but never the FAO Schwartz piano scene from Big as a Mexican diorama. It's simply awesome. And the best part is, both exhibits are at the same place so you can check them both out.
For more information on Evanimal's show, visit the Event Page on Facebook. Here's the Facebook Event Page for Senor Chips' show.