Third 'Wreck-It Ralph' Viral Commercial: 'Hero's Duty' Featuring Music By Skrillex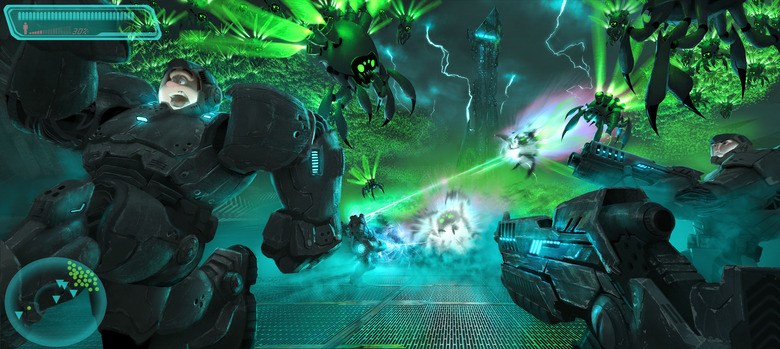 Disney's Wreck-It Ralph, an epic adventure set in a video arcade, primarily focuses on the worlds and characters of three fictional games: Fix-It Felix Jr., an old-school stand up inspired by Donkey Kong and Rampage; Sugar Rush, a sit-down racing game blending Mario Kart and Candyland; and Hero's Duty, a first person shooter in the mold of Time Crisis, Call of Duty and Halo. Disney recently released viral commercials for the first two games, seen here and here, and now the trilogy is complete. After the jump, check out the commerical for Hero's Duty, featruing the music of popular dubstep artist Skrillex.
Thanks to IGN for the heads up.
While Hero's Duty is a small part of the movie, by far the least significant of the three primary games in the film, its visuals and energy are incredible (and it does have one, very important spoilery purpose). Visual Development Artist Cory Loftis was largely responsible for the look for the game, and designed most of its look using triangular shapes. He and the other designers were also influenced by architects such as Daniel Libeskind. Here are some other facts about it from a previous article:
In the world of the game, the bad guys become what they eat so if you they take your gun, they become a gun.
Also inside the game, the player is represented as a clumsy robot with a huge flatscreen on it, showing a window into the arcade. This is how the first person interaction works. This was also designed by Loftis, who was hired out of the video game world based on his blog.
During development, Microsoft revealed their Kinect controller, and producers worried it would change video games forever. Disney briefly considered changing Hero's Duty into a movement-based game.
Wreck-It Ralph opens on November 2.