'Movie 43' Green-Band Trailer: "Unspeakable, Unforgivable, Just Plain Wrong"? If You Say So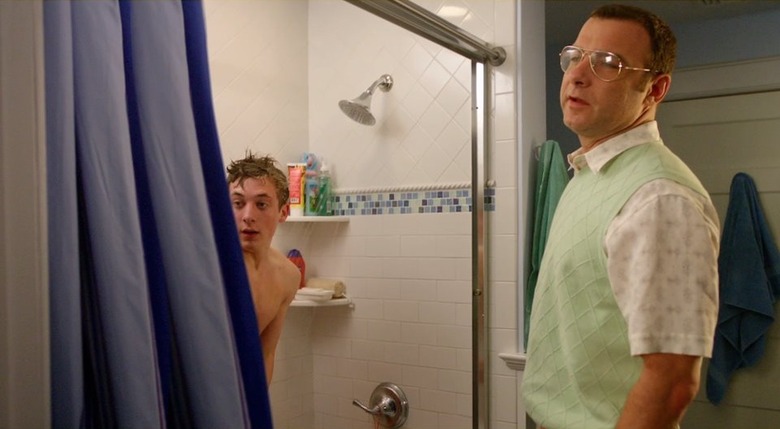 The red-band trailer for Peter Farrelly's Movie 43 leaned hard on the shock factor of seeing big Hollywood stars revel in foul language and filthy jokes, but the poor green-band trailer is stuck trying to sell the exact same product by only hinting at what the NSFW version could actually show. Is Anna Faris asking Chris Pratt to take a dump on her still comedy gold when the word "poop" has to be substituted with a fart noise? Is Liev Schreiber and Naomi Watts bullying their own kid still shocking when they have to keep their behavior G-rated?
Eh, truthfully, I think the answer is that none of this looked all that outrageous to begin with. But at least it's not any less funny than it was before. Hit the jump to see Hugh Jackman, Gerard Butler, Kate Winslet, Halle Berry, Stephen Merchant, Emma Stone, Kristen Bell, Elizabeth Banks, Josh Duhamel, Terrence Howard, Christopher Mintz-Plasse, Chloë Grace Moretz, Seann William Scott, Jason Sudeikis, Kristen Bell, Richard Gere, and so, so, so many more celebs in the new SFW trailer.
Movie 43 consists of over 20 sketches from a dozen different directors including Farrelly, Brett Ratner, Bob Odenkirk, and James Gunn. We can probably expect some unevenness, as is usually the case with anthologies, but some of this looks entertaining if you like this kind of humor.
I love the idea of Berry running around ruining blind kids' birthday parties, and I laughed out loud at Stone's pitch-perfect delivery of "He was a wizard!" On the flip side, the Schreiber / Watts storyline and the iBabe segment look like SNL skits gone sour. And all in all, none of this really seems as "unspeakable, unforgivable, unbelievable, unsafe, and just plain wrong" as the marketing promises.
Movie 43 hits theaters January 25.
Warning: This movie is not for the weak-stomached, faint of heart, or easily offended. In Movie 43, comedy is served steaming hot by director Peter Farrelly of The Farrelly Brothers (Something About Mary, Dumb & Dumber) in one of the most original comedies ever made. Starring Elizabeth Banks, Kristen Bell, Halle Berry, Leslie Bibb, Kate Bosworth, Gerard Butler, Bobby Cannavale, Kieran Culkin, Josh Duhamel, Anna Faris, Richard Gere, John Hodgman, Terrence Howard, Hugh Jackman, Johnny Knoxville, Justin Long, Stephen Merchant, Christopher Mintz-Plasse, Chloë Grace Moretz, Chris Pratt, Liev Schreiber, Seann William Scott, Emma Stone, Jason Sudeikis, Uma Thurman, Naomi Watts, and Kate Winslet, Movie 43 is jaw-dropping, uproarious, outrageous fun.