TV Bits: Frank Darabont's 'L.A. Noir' Gets Picked Up, Plus 'Frankenstein,' 'Sons Of Anarchy,' 'Twilight' & 'American Horror Story'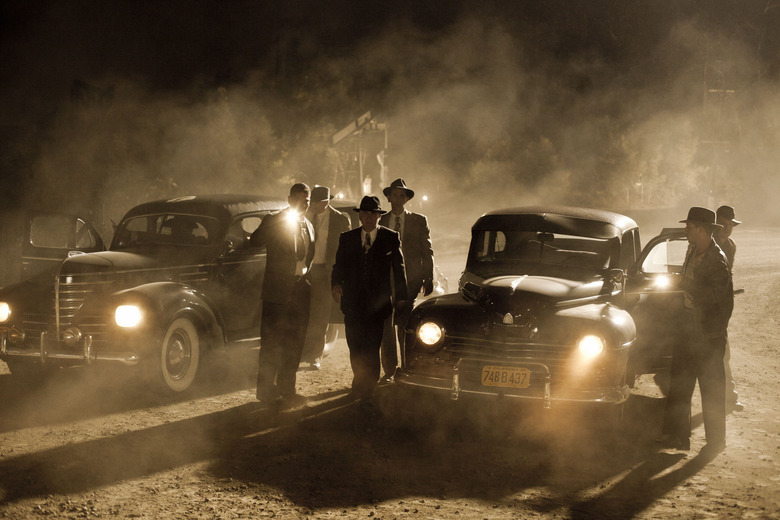 Above is you first look at Frank Darabont's new show L.A Noir, which was just picked up by TNT for six episodes. After the jump, read much more about the show as well as the following:
TNT is developing a new Frankenstein series based on the Dean Koontz novels.
Donal Logue will guest star on Sons of Anarchy.
Dylan McDermott will return on American Horror Story: Asylum.
The Twilight Saga might make a run on TV after the movies finish.
Deadline premiered the image first image of LA Noir and the news of TNT picking up six episodes of the show. According to the article Frank Darabont, who wrote and directed the pilot and is executive producing the series, took longer than usual to complete his final cut, which is why this news comes 10 months after they green lit the pilot. Here's a brief description of the show, which doesn't have a premiere date yet:
LA Noir stars Jon Bernthal as Joe Teague, an ex-Marine now working as an LAPD cop in an era rampant with police corruption. Jeffrey DeMunn plays Detective Hal Morrison, who heads the LAPD's new mob squad, with Jeremy Strong as Detective Mike Hendry, Morrison's second in command. Neal McDonough is Capt. William Parker, Teague's boss who is determined to weed out corruption and bring down Cohen. And Milo Ventimiglia plays Ned Stax, who fought alongside Teague during World War II but who now works as a lawyer with connections to the mob. The project also co-stars Ron Rifkin playing Los Angeles Mayor Fletcher Bowron, who makes it his mission to clean up corruption in city government; Pihla Viitala  as Anya, the head bartender at Bunny's on Central Avenue, the West Coast center of the black jazz scene; and Alexa Davalos as Jasmine, a beautiful woman whose past has come back to haunt her.
Sticking with TNT, they're also developing a new Frankenstein show based on the unique spin on the classic monster story by popular novelist Dean Koontz. In his version, 200 years have passed since the doctor created the monster, but they've somehow survived and will wage war against each other in modern day New Orleans. The show will be written by James V. Hart (Hook, Contact) and his son Jake Hart. Read more about it over on Deadline.
Joining the likes of Joel McCale, Ashley Tisdale and others, Donal Logue (Terriers, Grounded for Life) is set to guest start on the final three episodes of this season's Sons of Anarchy. He'll be playing a U.S. Marshall. The Hollywood Reporter has more.
With that tweet, the father from season one of American Horror Story, Dylan McDermott, was revealed to come back for the second season, American Horror Story: Asylum. There's no work on who he'll be playing but, like other returning actors on the show, it won't be the role he played in the first season. Thanks to TV Line.
Finally, Moviehole reports The Twilight Saga may live on after the final film hits theaters next month. Rumor has it, the rights holders are considering everything from a spin-off movie to a TV show, possibly following the Wolf Pack. This would allow them to tell stories in the world with out the famous, and expensive, main stars. Consider this a rumor for now.