Steven Spielberg Trivia: A Connection To 'Argo,' Why He Hasn't Directed A James Bond Film And More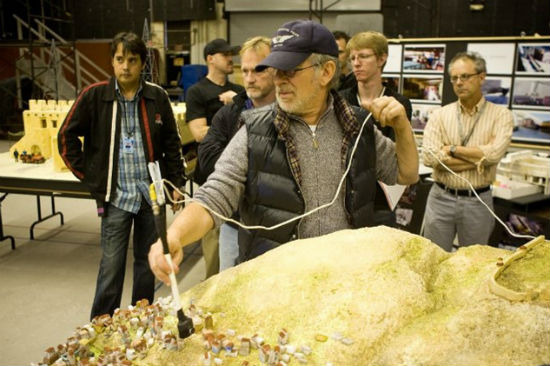 Steven Spielberg's Lincoln is fast approaching, which means soon we'll hear all the obligatory quotes from the man himself about Indiana Jones 5, Robopocalypse, Jurassic Park 4, Tintin 2 and whatever other movies he's been attached to or talked about over the years. Two movies that likely won't be mentioned are Ben Affleck's Argo and Sam Mendes' Skyfall, both of which be in theaters at the same time. Maybe they should be, though, because each has an interesting, outside connection to the popular filmmaker.
Ben Affleck's character in Argo, Tony Mendez, recently recounted the entire ordeal dramatized in that film and revealed that one of the scripts his fictional production company received was written by none other than Steven Spielberg. Then, James Bond producer Barbara Broccoli addressed Spielberg's very vocal desire to direct a James Bond film in a new interview. Read the details about each, and watch an old E.T. audition that's currently making the rounds, after the jump.
Starting with Argo, Mendez wrote about the mission in incredible detail on the CIA Website (thanks to Playlist for the heads up) and mentioned the following:
An ironic coda: by the time Studio Six folded several weeks after the rescue, we had received 26 scripts, including some potential moneymakers. One was from Steven Spielberg.
For those who haven't seen the film, in order for the entire hostage rescue plan to work, everything needed to appear legitimate. One of those things was creating a fake production company, called Studio Six Productions, and it seems like it was done so well, agents and producers were submitting screenplays. As to which screenplay it might have been, this was early 1980, and Mendez doesn't specify if Spielberg wrote it or was just attached. Maybe it was Poltergeist? E.T.? Who knows but it's an awesome piece of trivia.
Next up, Film School Rejects asked Skyfall producers, and keyholders to the James Bond universe, Michael G. Wilson and Barbara Broccoli why Spielberg, who has long told anyone who'd listen he wants to make a Bond film, has yet to do so. Here was Broccoli's response:
Well, early on it was very sweet, because when he was a young filmmaker he approached my father. My dad said, 'Yeah, kid, ya gotta get some more [films] under your belt. Years later, when he did Schindler's List, my father wrote to him about how much he loved it. Spielberg then sent a really sweet note saying, 'Now will you let me direct a Bond movie?' [Laughs] My father said, 'Now I can't afford you!' That's the way of the world.
I have a feeling Spielberg would drop his fee to direct one of these films but he may have to get in line. Christopher Nolan and others have all said they'd jump at the chance to work in 007's world.
Finally, we posted this video a long time ago but it has once again gone viral and, in case you missed it then, you can see it now. It's Henry Thomas' beyond impressive audition for E.T. Thanks to Boing Boing.