Adam Scott Options Chuck Klosterman's 'Downtown Owl'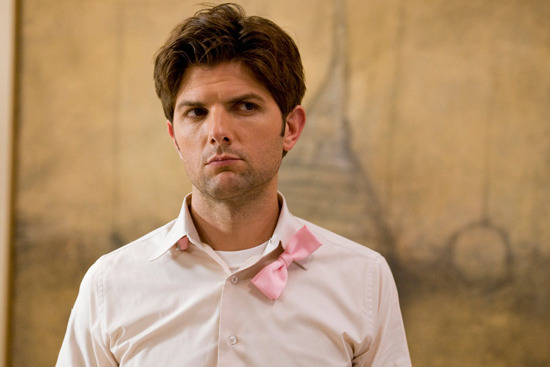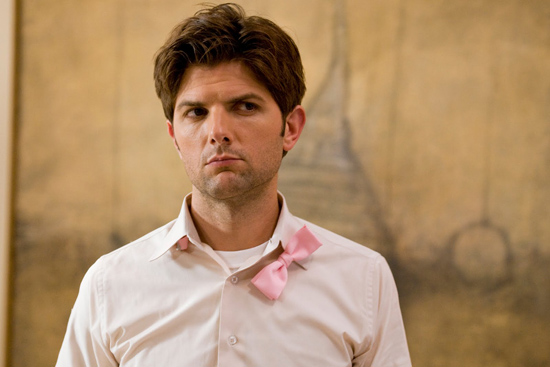 From TV star to movie star and now moving into the producer role, Adam Scott is continuing his plan for world domination. He and his wife, Naomi Scott, have started a new production company called Gettin' Rad Productions. For their first foray into feature films, they've purchased the rights to Chuck Klosterman's book Downtown Owl. Oren Uziel (Mortal Kombat: Rebirth) has been hired to adapt the story about several different characters who live in a fictional North Dakota town where pop culture doesn't exist.
Read more about the film after the jump and watch Gettin' Rad's first TV project, The Greatest Event in Television History, starring Scott and Jon Hamm.
The news of the Scotts' new production all came from The Hollywood Reporter and the actor had the following to say about Downtown Owl, the first fiction novel by noted pop culture commentator Klosterman:
It's lovely and moving and funny. We just thought it's a really great story about people that I relate to but also small enough that it would make a good first film out of the gate for us.
Here's the description from its Amazon page:
Somewhere in North Dakota, there is a town called Owl that isn't there. Disco is over, but punk never happened. They don't have cable. They don't really have pop culture, unless you count grain prices and alcoholism. People work hard and then they die. They hate the government and impregnate teenage girls. But that's not nearly as awful as it sounds; in fact, sometimes it's perfect.
Mitch Hrlicka lives in Owl. He plays high school football and worries about his weirdness, or lack thereof. Julia Rabia just moved to Owl. She gets free booze and falls in love with a self-loathing bison farmer who listens to "Goats Head Soup." Horace Jones has resided in Owl for seventy-three years. He consumes a lot of coffee, thinks about his dead wife, and understands the truth. They all know each other completely, except that they've never met.
Like a colder, Reagan-era version of "The Last Picture Show" fused with "Friday Night Lights," Chuck Klosterman's "Downtown Owl" is the unpretentious, darkly comedic story of how it feels to exist in a community where rural mythology and violent reality are pretty much the same thing. Loaded with detail and unified by a (very real) blizzard, it's technically about certain people in a certain place at a certain time...but it's really about a problem. And the problem is this: What does it mean to be a normal person? And there is no answer. But in "Downtown Owl," what matters more is how you ask the question.
And while that's being written, Scott and his wife have already produced one piece, The Greatest Event in Television History which aired recently on Adult Swim. It's a shot-by-shot remake of the credits sequence from the show Simon & Simon with an all-star cast. They're likely to do something similar again soon. Read more at the Hollywood Reporter article. Here's the short.
Are you happy Scott is going in this direction? Have you read Klosterman's novel?