Sacha Baron Cohen's Freddie Mercury Biopic Is Still Moving Forward, Says Queen Guitarist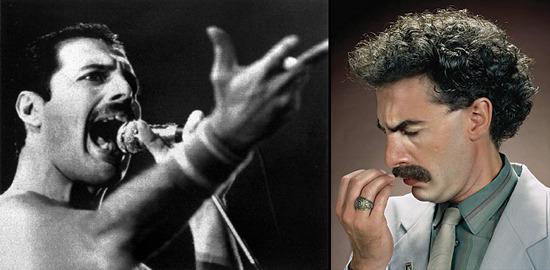 Every once in a while we get an update on the planned biopic of late Queen frontman and consummate showman Freddie Mercury. For quite a while Borat star and Hugo supporting actor Sacha Baron Cohen has been set to play the mustachioed singer, but beyond that we've heard fairly little.
But founding and current Queen guitarist Brian May says the film is still moving forward. There's been a delay, and so contrary to previous reports shooting is now planned for spring 2013 with a release to follow in 2014, but the thing is still happening.
May said last week on his website,
Ah ... I promised news of yesterday's Queen band meeting. Well, it was just Roger and Jim Beach and myself ... we are a small cottage industry !! Our main agenda was the Freddie film ... which, I'm happy to tell you, is on course. Much of our discussion was about contractual things ... it's pretty complex .... and determining who is responsible for what. The pieces are all falling into place, though we are now on a slightly later schedule – filming is now scheduled to start in the Spring, with Sacha Baron Cohen playing Freddie. The film should be ready for release early in 2014. We did make some other plans, but they will have to stay under wraps for now. Being in Queen is – bizarrely – as full of surprising twists and turns as ever – 40 years since we first got together, and 20 years after losing Freddie. But of course Freddie is in so many ways very much alive. He must be wryly smiling somewhere !!!
Stephen Frears has been mentioned as a possible director, but what we're really waiting to hear is how Cohen will perform Mercury's moves and vocals. With the remaining members of Queen on board as producer we know the film will feature a catalogue of the band's music; we don't know if Cohen will impersonate Mercury for performance footage, or if he'll lip-sync to existing vocal tracks. Mercury's delivery and range make him unique amongst rock singers, so the impersonation is no easy feat.Peter Morgan scripted the current draft of the film, which will trace the formative years of Queen, and conclude with the band's beloved 1985 performance at Live Aid. Mercury was diagnosed with AIDS in 1987 and died due to complications from the disease in 1991.