'Carrie' Teaser Trailer: Burn, Bullies, Burn!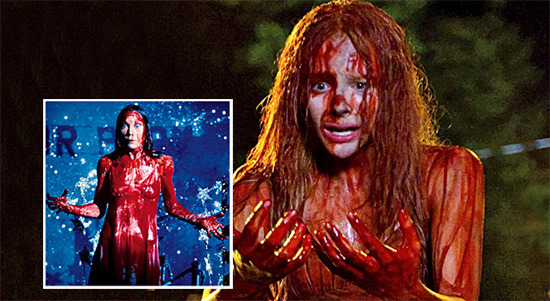 MGM and Screen Gems just debuted footage from Kimberly Peirce's new film version of Stephen King's debut novel Carrie at the New York Comic Con over this past weekend, but isn't wasting any time getting something online. While fans often have to wait months (or more) before seeing trailers that play at the San Diego Comic Con, a teaser trailer for Carrie is now online.
The trailer cuts right to the chase, too, with a slow flight in to the burning hell unleashed by Carrie White (Chloe Grace Moretz) after her first high school prom experience goes, er, badly.
Not bad, but not much to chew on there. We only get that brief look at Moretz in her traumatized state, and really, it'll be all her work in the rest of the movie — along with that of Julienne Moore as her repressive mom — that will be important. Nice teaser, though.
Carrie opens on March 15. Yahoo Canada has the trailer.
The quiet suburb of Chamberlain, Maine is home to the deeply religious and conservative Margaret White and her daughter Carrie.  Carrie is a sweet but meek outcast whom Margaret has sheltered from society.  Gym teacher Miss Desjardin tries in vain to protect Carrie from local mean girls led by the popular and haughty Chris Hargenson, but only Chris' best friend, Sue Snell, regrets their actions. In an effort to make amends, Sue asks her boyfriend, high school heartthrob Tommy Ross, to take Carrie to prom. Pushed to the limit by her peers at the dance, Carrie unleashes telekinetic havoc.