'Mockingbird Lane' Trailer: Big Effects, Light Comedy From Bryan Fuller And Bryan Singer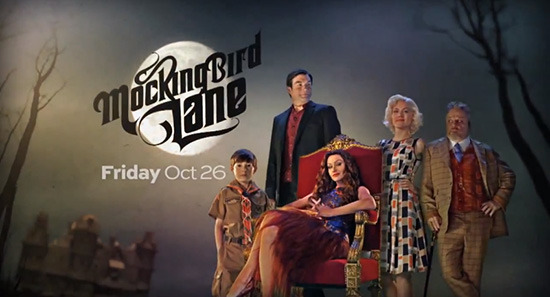 Time once again to speculate about just what NBC expects out of Mockingbird Lane, the Munsters revamp from producer/writer Bryan Fuller (Pushing Daisies) and director Bryan Singer (The Usual Suspects, X-Men). Over the past couple weeks we've heard that the expensive pilot came in below NBC's standards, and that the network was either
, or
airing the pilot as a pre-Halloween special
in order to make back a few bucks on the investment.
Now we've got the first ad for the show, so we know the "one-time special" airing is really happening. This is also our first real look at what Fuller and Singer pulled together for the show, which stars Jerry O'Connell as Herman Munster, Portia de Rossi as his wife Lily, and Eddie Izzard as Grandpa.
It's an effects-heavy comedy with an aesthetic that will be familiar to fans of Fuller. The stuff pulled for this brief tease looks pretty good, especially by television standards. Whether the comedy works or not will come down to personal preference, but for a pilot that has been the subject of such pessimistic speculation this doesn't look like a wreck.
So Eddie Izzard is doing a pretty good Malcolm McDowell there, and I like the FX shots we get of the characters forming out of mist and rats. The general tone and stabs at comedy aren't my style, but I expected something a lot more dire. It's easy to hide flaws in a trailer this brief, but based on this I'd probably give the show a look, if only for curiosity's sake. And that might be exactly NBC's plan. [
]