NYCC: Mondo's Poster Offerings Include 'Kill Bill,' 'Lord Of The Rings,' 'Shaun Of The Dead' And 'Friday The 13th'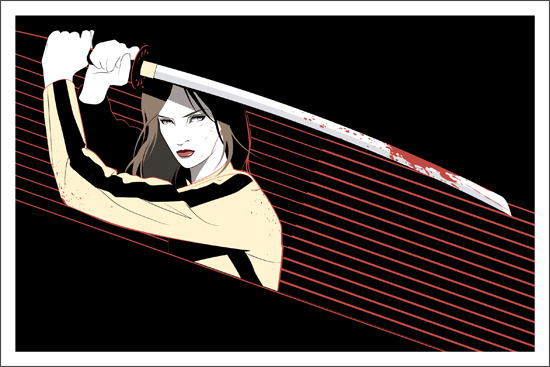 New York Comic-Con has come and gone, bringing with it big movie news, TV news and lots and lots of collectibles. And while some booths chose to reveal their collectibles in advance, one that didn't was the crew at Mondo. They preferred to keep their first trip to New York a well-kept secret until the convention opened on Thursday. Once that happened though, fans realized it was worth the wait as the famous poster boutique of the Alamo Drafthouse had brought posters from the Lord of the Rings, The Iron Giant, Shaun of the Dead, Kill Bill, Friday the 13th and more. That's the good news. The better news is that not everything sold out so they'll likely be online soon.
After the jump, check out all of Mondo's New York Comic-Con offerings.
Here are the 14 posters released by Mondo at New York Comic-Con. Mouse over each for the name of the artist and whether it's the variant or regular.
And here are some specs.
Jay Shaw – Friday The 13th Part III – $35/Run of 175
Mike Mitchell – The Iron Giant Reg $50/Variant $75/ Runs of 400/175
Tom Whalen – Foghorn Leghorn Reg $40/Variant $65/Runs of 270/95
Randy Ortiz – City of the Living Dead $35/Run of 125
Craig Drake – Beatrix Kiddo Reg $50/Variant $85/Runs of 130/75 (Both Sold Out)
Jock  - Shaun of the Dead Reg $50/Variant $75/Runs of 400/175 (Both Sold Out)
Todd Slater – Treebeard Reg $50/Variant $70 Runs of 350/130
Phantom City Creative – Phantasm Run of 280
Except for the two prints that are marked as sold out (Kill Bill and Shaun of the Dead) leftovers should end up online sometime soon. Follow
@MondoNews
for the exact info.
And check back later this week for Mondo's next huge drop of posters, connected to their Universal Monsters art show on October 19 in Austin.