Christoph Waltz Will Be Mikhail Gorbachev In 'Reyjkavik'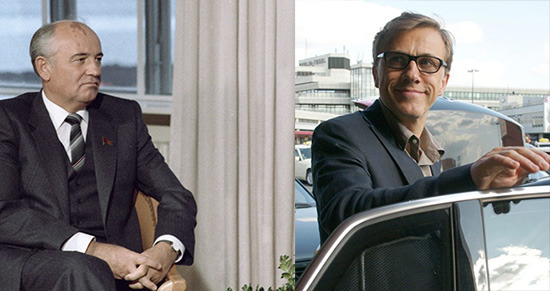 Christoph Waltz didn't get to play one important figure from history, as he had to fall away from playing Sigmund Freud for David Cronenberg in A Dangerous Method. But roles out of history have to be thrown at an actor of Waltz's capacity on a daily basis. Now he's lunged at one, and  will join Michael Douglas in the film Reykjavik. Douglas will play Ronald Reagan, and Waltz will appear as Mikhail Gorbachev, who was Chairman of the Supreme Soviet and then President of the Soviet Union. Gorbachev essentially led the USSR out of the Cold War.
While Ridley Scott was once attached as director, Reykjavik is among the many projects that Scott eventually passed off to someone else, and Mike Newell will now direct based on a script by playwright Kevin Hood. Scott remains on as producer, and told Variety,
The film will offer the viewer a unique look into two larger than life figures who served as the catalysts for one of the most defining moments in our history, the end of the Cold War.
The film is based on a real meeting between Reagan and Gorbachev, during which the two leaders attempted to come to terms on issues that defined and perpetuated the Cold War. As the general logline for the film says,
[Reyjkavik] takes place over a few days in 1986, when Reagan and Soviet leader Mikhail Gorbachev met for talks in the Icelandic capital to iron out peace against the backdrop of the Chernobyl nuclear disaster.