'Gangster Squad' Trailer #2: No Names, No Badges, No Mercy, New Poster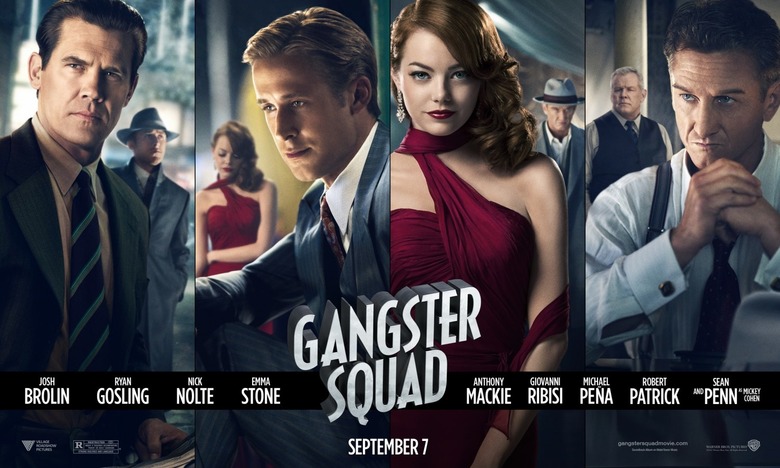 In a world where the Aurora Massacre didn't take place, Gangster Squad would be now completing its theatrical run. Instead we're just getting the film's second trailer. Director Ruben Fleischer's period action film starring Sean Penn, Josh Brolin, Emma Stone and Ryan Gosling was delayed after its climax was deemed too similar to July's tragedy, demanding a full-on reshoot. The new footage is in the can now, and it's full steam head towards release on January 11, 2013.
The latest trailer does hint at what changes were made but mostly focuses on the renegade group of law enforcers who aim to take down a big time gangster. Check it out below along with the new poster.
Thanks to Apple.com for the trailer. Head there for the high definition version, but here's an embed.
Very strong trailer, incredible editing and excitement, especially towards the end. They're definitely going for a new gangster classic with this one.
Here's the new poster.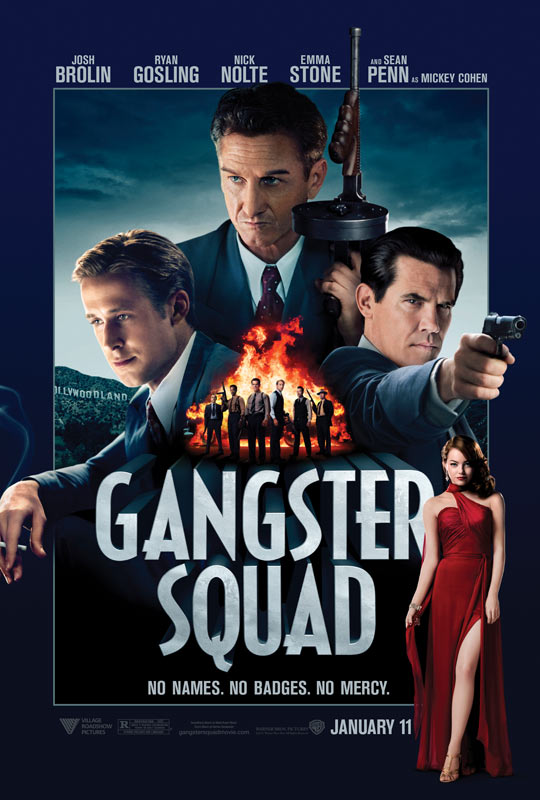 Here's the official plot description:
Los Angeles, 1949. Ruthless, Brooklyn-born mob king Mickey Cohen (Sean Penn) runs the show in this town, reaping the ill-gotten gains from the drugs, the guns, the prostitutes and—if he has his way—every wire bet placed west of Chicago. And he does it all with the protection of not only his own paid goons, but also the police and the politicians who are under his control. It's enough to intimidate even the bravest, street-hardened cop...except, perhaps, for the small, secret crew of LAPD outsiders led by Sgt. John O'Mara (Josh Brolin) and Jerry Wooters (Ryan Gosling), who come together to try to tear Cohen's world apart.
Under the direction of Ruben Fleischer ("Zombieland"), "Gangster Squad" is a colorful retelling of events surrounding the LAPD's efforts to take back their nascent city from one of the most dangerous mafia bosses of all time. The film stars Oscar® nominees Josh Brolin ("Milk," "True Grit") and Ryan Gosling ("Half Nelson," "Drive") as the LAPD's Sgt. John O'Mara and Jerry Wooters, and Academy Award® winner Sean Penn ("Milk," "Mystic River") as real-life mobster Mickey Cohen. The film also stars Oscar® nominee Nick Nolte ("Warrior," "Affliction") as LAPD Chief "Whiskey Bill" Parker, and Emma Stone as Grace Faraday, Cohen's moll and the object of Wooters' attention.
The movie also stars Anthony Mackie ("The Adjustment Bureau") as Coleman Harris, a switchblade-wielding cop who proudly patrols one of the most crime-ridden areas of the city; Giovanni Ribisi ("Avatar") as the force's Conwell Keeler, an electronics expert who takes as much pleasure in fixing his son's bike as he does tinkering with experimental, military-grade equipment; Michael Peña ("Battle Los Angeles") as Kennard's over-eager sidekick, Navidad Ramirez; and Robert Patrick ("Flags of Our Fathers") as Officer Max Kennard, a deadly cop who patrols the Olvera Street beat.