Sequel Bits: 'The Hangover Part III', 'Fast And The Furious 6', 'Monsters University', 'Taken 2', 'Bourne', 'Star Trek Into Darkness', 'Red 2', 'Wrong Turn 5: Bloodlines'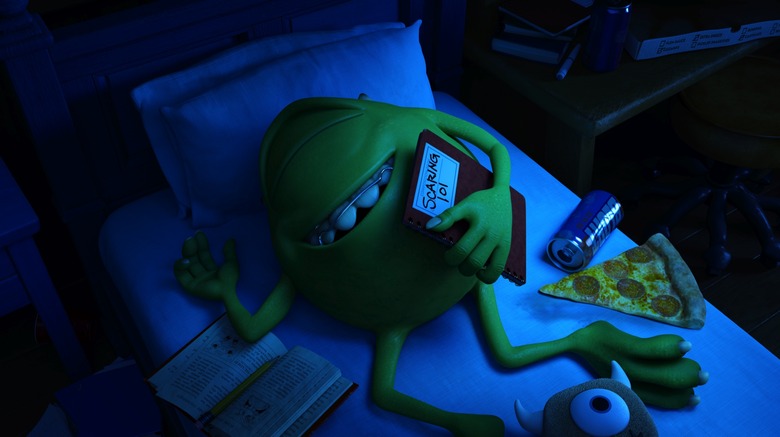 Is it time to look ahead to 2013 already? After the jump:
The Hangover 3 will shoot in Orange County, CA
Paul Walker is recovering from a Fast Six injury
Monsters Inc.'s Mike is Billy Crystal's favorite role
Liam Neeson collected $10 million for Taken 2
Matt Damon probably won't play Bourne again
Roberto Orci defends the one-second Star Trek clip
Over-the-hill movie stars team up in Red 2 set photos
See a new photo from Wrong Turn 5: Bloodlines
If you live in the area, head to OLV for specifics on dates, times, and locations. The Hangover Part III opens May 24.
Meanwhile, The Fast and the Furious franchise will have to take things a little bit slower for the time being. Star Paul Walker was injured this week in London, while doing stunt work on the sixth installment of the franchise.
Thankfully, he doesn't seem to be in any danger — he's limping, but nothing is broken. Insiders say he's been advised to rest over the weekend, and production will shoot around him until he's recovered. The movie is still on track to open May 24. [Deadline]
At 64, Billy Crystal is a little older than the average college student. But such things don't matter much in the world of animation, so he and John Goodman are heading back to school for the Pixar prequel Monsters University. And Crystal, for one, can't wait. In a recent interview, Crystal called his Monsters character, the green, one-eyed Mike Wazowski, "my favorite character they've already played."
The comedian credited his strong working relationship with Goodman for selling the bond between the two creatures. "We do it together and he's a genius," he said. "That's why I think there's a lot of affection between Mike and Sulley on the screen — the relationship between the two of us is so real. We really love working with each other."
The creative freedom allowed him by the studio probably doesn't hurt, either. "I improvise like a madman! The Pixar people just let me go – if it's good, it's good, if it's not, it doesn't end up in the movie. It's hilarious." Monsters University opens June 21. [THR]
Another really good reason for a star to reprise his role? Cold, hard cash. Liam Neeson reportedly earned a cool $10 million for Taken 2, up from the $1 million paycheck he received for the first film. And if a Taken 3 were to happen, insiders suspect Neeson could command upwards of $20 million.
But that's a big if. It's too soon to say whether Taken 2 will lead to a sequel — and if so, whether Neeson would even want to come back. In an interview a few weeks ago, Neeson shrugged off the possibility of a third film. "I don't think it's going to happen," he said at the time. "I can't see a possible scenario where audiences wouldn't go, 'Oh, come on...! She's taken again?'" [THR]
Still, the odds of Neeson reprising his Taken part seem better than the chances of Matt Damon returning to the Bourne franchise. Asked whether he might play Jason Bourne again in a future installment, Damon responded, "There has not been any movement. I've always been open to it as long as Paul Greengrass directs, I don't think he's going to do it."
The actor continued:
From what I understand, [The Bourne Legacy] kind of relives [The Bourne Ultimatum] from a different perspective. What that means, because they use our actors and characters, is that whatever they said [in Legacy] is true and so we'd have to acknowledge it in any Bourne movie that we'd do. And that makes it really tough. I don't think we can do the Dallas it-was-all-a-dream scenario . I don't think the audience would go for that after they paid money to see a movie.
Damon isn't entirely against the idea of returning under the right circumstances, though. "I'd really love to do another one because I love the character," he said. [Movieline]
After years of waiting, some fans couldn't help but feel disappointed at the very first clip to come out of J.J. Abrams' Star Trek Into Darkness. It wasn't that the scene sucked, but that it was hardly a scene at all. Abrams unveiled a mere three frames of footage as part of a gag on Conan, but some fans were left unamused.
Writer Roberto Orci has now taken to the forums to smooth those ruffled feathers, writing:
I guess you will have to show me the marketing handbook you are using to question our schedule. Appreciate that you wanna see things ASAP. Delayed gratification is not a strong characteristic of some folks. I get it. All I can say is:
Relax. the movie is gonna melt your face right off. Your eyeballs are going to bleed. And you'll thank us
That's some big talk, but Orci's got reason to be confident. Abrams has never been one to dish out tons of footage in advance, and it's worked out pretty well for him so far. The finished film debuts May 17. [via Nerd Bastards]
Who says movie stardom is a young person's game? Set photos from Red 2 show its middle-aged and senior citizen cast throwing punches, zipping around on motorbikes, and generally being badasses. Click through the gallery to get an eyeful of stars Bruce Willis, Catherine Zeta-Jones, Mary-Louise Parker, John Malkovich, and David Thewlis.
IMAGES NOT HERE
Red 2 sees the retired CIA operatives tangling with new characters including a Russian double agent (Zeta-Jones) and an information dealer (Thewlis). It opens August 2. [Comic Book Movie]
Almost nine years after the first film, the Wrong Turn horror series is still going strong. The latest installment, titled Wrong Turn 5: Bloodlines is due out on DVD and Blu-ray October 23, and we have a bloody new image for you right here via Shock Till You Drop.
In the next chilling chapter of Wrong Turn, a small West Virginia town is hosting the legendary Mountain Man Festival on Halloween, where throngs of costumed partygoers gather for a wild night of music and mischief. But an inbred family of hillbilly cannibals kill all the fun when they trick and treat themselves to a group of visiting college students who are dying for a good time.