Watch Extended TV Spots For 'Rise Of The Guardians' And Robert Zemeckis' 'Flight'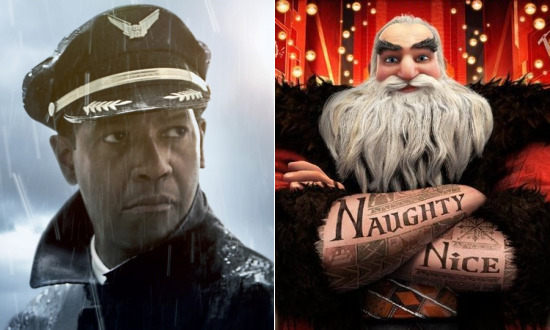 With the fall movie season well underway, we have new promos for two releases due out in November. The first is a 90-second spot for Flight, Robert Zemeckis' long-awaited return to live action. Denzel Washington stars as a pilot who's lauded as a hero when miraculously saves a plane full of passengers with a deft crash-landing. But as an investigation digs deeper into the circumstances surrounding the incident, the story and his life begins to unravel.
The other is an extended TV spot for Rise of the Guardians, a DreamWorks Animation tale about all the mythological figures of childhood imagination — Santa Claus, the Easter Bunny, the Tooth Fairy, etc. — banding together to save the world from an evil spirit called Pitch. Watch both videos after the jump.
[via Yahoo]
The new promo for Flight isn't all that different from the original trailer, but kudos to it for getting the same job done in two-thirds of the time, I guess. Washington looks perfectly cast as the outwardly cocky but inwardly troubled pilot. And the pre-crash scene builds up some real tension, even though we already know Washington and his passengers will mostly make it out alive. Flight lands in theaters November 2.
The Rise of the Guardians spot, on the other hand, is very different from its last trailer. Whereas that video played up the film's adventurous and epic feel, this one cranks up the comedy. Unfortunately, jokes don't seem to be this movie's strong suit.
[via The Film Stage]
We've seen kids' movies that look much, much worse, but this one just looks boring. What sets Rise of the Guardians apart from all the other animated family fare out there is its darker tone and fantastical universe, so it's disappointing that this spot does a poor job of showing off either. On the other hand, it's nice to get better acquainted with Jack Frost (voiced by Chris Pine), an apparently important character who barely featured in the last trailer.
Featuring a high-profile voice cast that also includes Hugh Jackman, Tom Kenny, Isla Fisher, and Alec Baldwin, Rise of the Guardians hits November 21.