/Film LA: 'Halloween' And 'Big Top Pee-Wee' Screen For Debra Hill Film Festival; With Mondo Posters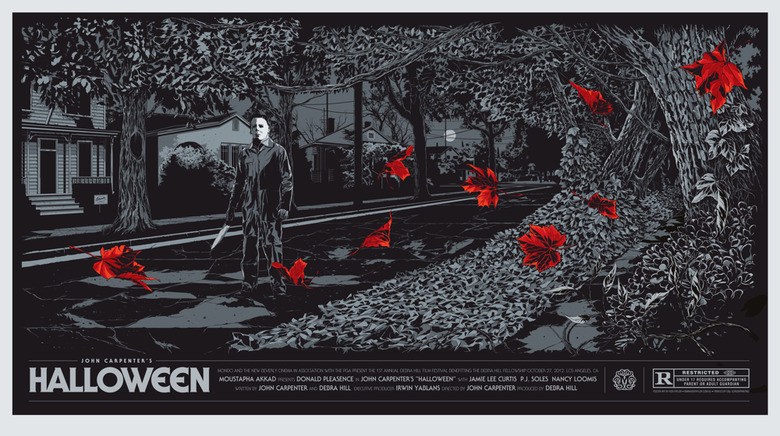 Two great movies honoring a fantastic filmmaker with proceeds going to charity, and you get a Mondo poster. It's hard to imagine something better than that.
Debra Hill, one of the pre-eminent producers of the Eighties and Nineties, passed away in 2005. She left not only a legacy of great films (Escape from New York, Clue, Adventures In Babysitting, The Fisher King) but a commitment to emerging producers and those two passions come together on October 26 and 27 at the New Beverly Cinema in Los Angeles, CA. There, the Producers Guild of America will host the inaugural Debra Hill Film Festival, featuring Big Top Pee-Wee and Halloween on consecutive nights with very special guests and very special posters. For Pee-Wee, Paul Reubens will be on hand along with director Randall Kleiser and co-star Penelope Ann Miller. The poster is by DKNG Studios. For Halloween, John Carpenter will be on hand with a poster by Ken Taylor.
After the jump, find out how you can buy tickets right now and check out both posters.
Here are the two posters (plus variants) that'll come with your tickets to either night of the Debra Hill Film Festival. They're either $100 for a regular seat or $500 for a VIP seat, which includes a variant poster, reserved seat and meet and great with either Reubens or Carpenter. You can purchase those
and
.
Pee-Wee is 24 x 36 inch screenprint, while Halloween is a 20 x 36 inch, both in a very limited edition that will only be sold at the event. And yes the ticket prices are steep but they include the poster as well as a donation to the Paula Hill Fellowship. President of the Producers Guild of America Mark Gordon the following:
Debra was a trailblazer, an expert storyteller and a deeply committed member of the Producers Guild. In the years since her passing, we have worked to keep her spirit alive, holding her passion and professionalism as a model for a new generation of emerging producers. We are thrilled to have this opportunity to revisit her work and celebrate her inspirational legacy.
And as a special, coincidental treat, the New Beverly is screening Halloween II at midnight after the Halloween screening on October 27. I'm going for sure. What about you?