Matt Damon, Peter Stormare, And Sanjeev Bhaskar Join Terry Gilliam's 'The Zero Theorem'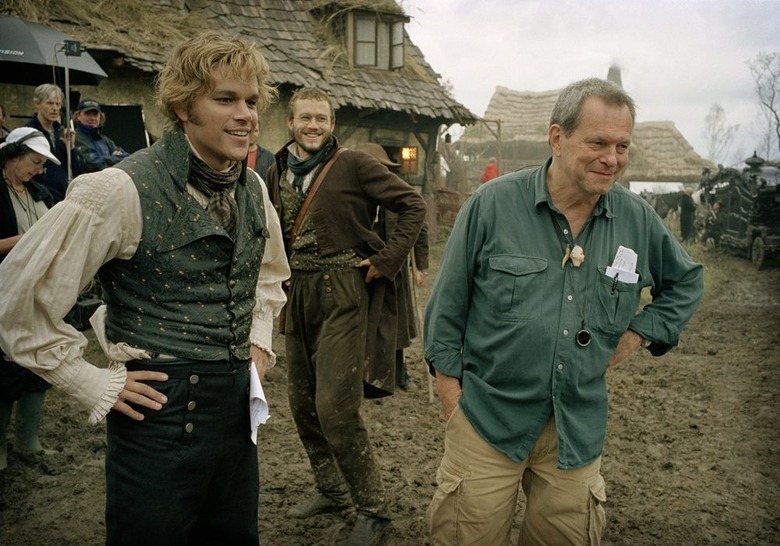 Matt Damon did a movie with Terry Gilliam once, and sadly, it... was not very good. At all. But despite all the evident problems with The Brothers Grimm, there is no bad blood between actor and director. In fact, Damon is now set to go back to work with Gilliam. And even if it's just for a couple days, for a small role in Gilliam's new film The Zero Theorem, it's a pretty great thing.
The film stars Christoph Waltz as a computer scientist waiting for a phone call as he is preoccupied with puzzling out a theorem to determine the reason for human existence. It also features Tilda Swinton and Melanie Thierry, and today Gilliam announced via Facebook that Peter Stormare and Sanjeev Bhaskar also have roles. But until we have more idea of what they'll be doing, let's get to the comments from Damon about his gig.
Vulture ran into Matt Damon at the premiere of Argo, and noting the actor's newly-shaved head, asked about reshoots for Neill Blomkamp's Elysium. Damon confirmed that, but said he's also going back to work with Gilliam:
I'm just doing a very small part in [The Zero Theorem]. Someone finally gave him money to do this one, thank God. It's with Christoph Waltz and Tilda Swinton. I'd do anything for Terry. It's been ten years since I last worked with him. I wrote Terry this whole e-mail, because we had this whole conversation about what the character would look like, because the story takes place in the future, but he had a specific look that he wanted, but then I had to [points to shaved head], and I said, "Terry, what should we do?" And he said, "Actually, we can take advantage of the fact that your head is shaved. Why don't we change your hairline?" So he mocked up a picture and sent me a real receding hairline, with white spiked hair. "We might as well take advantage of the fact that you're bald and really do something, present you in a way you've never been seen before."
Damon said the look would be more Graydon Carter than punk rock,
They're making the wig now, and I saw the hair sample — they've got to get it to London and send it. It's, like, gray-white. He's supposed to be my age, and it's supposed to be a believable hairline, but a few inches back to here [points to an area much further back]. Still believable that it could be mine, and then they'll fine shave my head all the way down. Terry's so visual, you know, which I love. It makes it very easy to work with him. He always knows exactly what he wants.
(And, actually, we do know, maybe, a bit about what Stormare and Bhaskar will be doing, as Gilliam's announcement said, "Excitement at the front! Zero Theorem now has two more brilliant actors on board: Peter Stormare and Sanjeev Bhaskar. Not just comic geniuses but great friends. They will be sharing two parts at the same time. I hope you like the look." Make of that what you will.)