Watch Joe Carnahan's 'Gemini Man' Sizzle Reel, Which Pits Clint Eastwood Against Clint Eastwood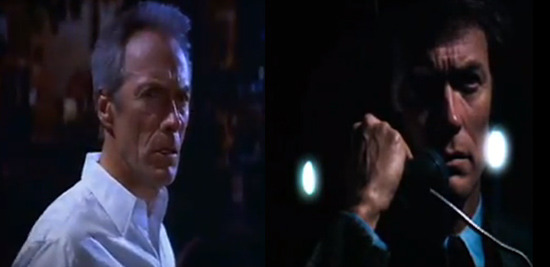 Here's another sizzle reel from director Joe Carnahan. Not long ago we showed you Carnahan's assembled reels meant to pitch Daredevil, and now here's another, for the canceled Disney film Gemini Man. The project, based on a script by David Benioff, has a good high-concept premise: an older government agent discovers that he's in the crosshairs of a younger, more capable assassin. The reveal, however, is that the assassin is a clone of the agent.
The last time we reported on Gemini Man was in 2009, when Curtis Hanson was looking like a possible director. But there was a point more recently when Carnahan was anging to make the movie with Clint Eastwood playing the older character. As he does, Carnahan assembled a sizzle reel to pitch his tone and general intent to Disney, and you can watch that below.
Having decades of Eastwood films to pull from definitely helps here when it comes to crafting a sizzle reel that shows off the concept. It's a lot more fun to watch than most reels of this type.
But you can also see why the film might have been a problem. Just as Joseph Gordon-Levitt had to be altered to sorta match Bruce Willis in Looper, Gemini Man would require extensive effects work to make the sort of film pitched above. Who do you get to be an effective younger Eastwood? And after watching that reel, would you accept anything other than a pure Clint to Clint face-off? So the fact that this never got made isn't difficult to understand or accept.
Carnahan explains the video with this brief message:
Sizzle reel for a defunct movie project that I was interested in doing with Bruckheimer at Disney. I was really fired up to work with one of my heroes: CLINT. That was the big reason why I put this reel together.