Photos: 'Robocop', 'Hitchcock', 'The Wolverine', 'Beautiful Creatures', 'National Lampoon's Vacation' Reunion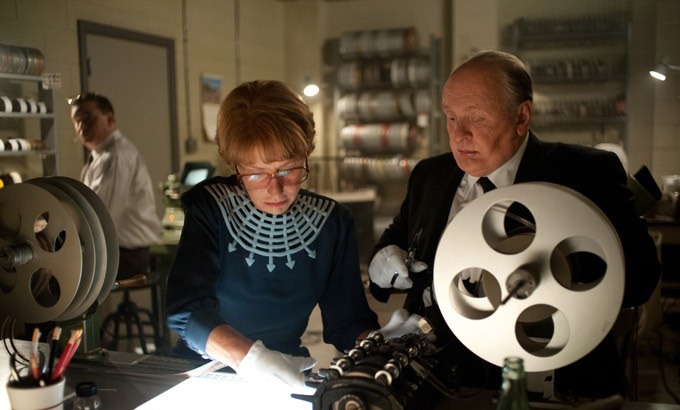 We've got a hodgepodge of new images after the jump, including set photos from Robocop and The Wolverine, stills from Hitchcock and Beautiful Creatures, and even a snapshot of the National Lampoon's Vacation cast, reunited.
PHOTOS NOT HERE
While we've quite a bit of Joel Kinnaman in his futuristic Robocop suit already, these new set pics from Toronto offer a better look at some of the supporting players including Michael Keaton as OmniCorp CEO Raymond Sellars, Michael K. William as Murphy's partner Lewis, and Abbie Cornish as Murphy's wife Ellen. Comic Book Movie has more images from the scene they're shooting, which appears to be the unveiling ceremony for OmniCorp's cyborg law enforcer. The Jose Padilha-directed remake is scheduled to hit August 9.
The Wolverine photos come from Sydney, Australia by way of Collider. In contrast to earlier photos of Hugh Jackman stripped down or dressed up, the new images have him in an ordinary modern-day outfit that could've come from the Gap — well, aside from what looks like a bullet hole in his right thigh. Next to him is co-star Rila Fukushima, who plays Yukio. Based on the Silver Samurai storyline from the comics, James Mangold's The Wolverine is slated to open July 26.
New stills and a poster from Hitchcock (via The Playlist), one of two Alfred Hitchcock biopics coming up on the horizon, show off Anthony Hopkins' best impression of the iconic filmmaker. Also starring are Helen Mirren as his wife Alma, and Scarlett Johansson and James D'Arcy his Psycho stars Janet Leigh and Tony Perkins. Directed by Sacha Gervasi, Hitchcock opens November 23.
While the leads of Richard LaGravenese's YA adaptation Beautiful Creatures, Alice Englert and Alden Ehrenreich, are still up-and-coming, its supporting cast features several notable names including Jeremy Irons, Viola Davis, and Emma Thompson. Featured in these photos are Emmy Rossum, who appears to be enjoying the hell out of herself as a manipulative cousin of Englert's. Beautiful Creatures debuts February 13.
And finally, we have a shot of the National Lampoon's Vacation cast back together again. This has nothing to do with the Vacation sequel coming down the pipeline, but it's just fun to see Chevy Chase, Beverly D'Angelo, and Dana Barron, and Anthony Michael Hall hanging out. The photo comes from the Entertainment Weekly's Reunions issue (via Yahoo), which also features the casts of Arrested Development and Melrose Place.