Writer Doesn't Think Jean Claude Van Damme Should Be In 'Bloodsport' Remake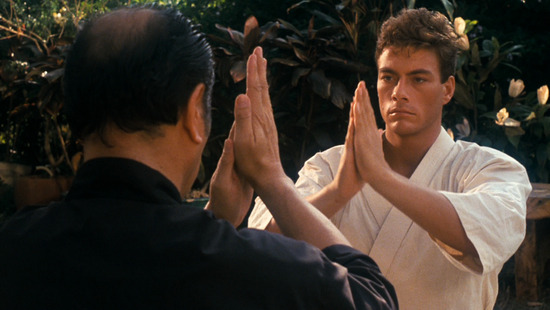 It should surprise no one that a remake of the 1988 action film Bloodsport has been in the works for some time. The original is well-known for launching Jean Claude Van Damme into action superstardom. It follows his character, Frank Dux, as he infiltrates a deadly martial arts competition, and eventually fulfills his destiny by besting all competitors. Bloodsport was a perfect title for an awesome movie, and a while back writer Robert Mark Kamen (Taken 2) was hired to write a new version with Philip Noyce (Salt) set to direct. The idea wasn't novel or exciting, but it fit Hollywood's current way of thinking.
With Taken 2 now at the top of the box office, Kamen has been discussing that film and got asked about the Bloodsport remake. He didn't offer any significant update but did say he doesn't feel Van Damme would appear because he doesn't fit. The reason why will surprise you. Read the quote, and Van Damme's thoughts, after the jump.
Kamen said the following talking to Crave Online:
This film resembles the original in title only. It has nothing to do with any Kumite contest. It has nothing to do with Frank Dux. If the title was not the same, you would not associate the two films. To use JCVD would make no sense because the association would be lost as the story has nothing to do with the first one. If anything it would be a distraction.
Wait. Wait. So, you're remaking Bloodsport "in title only?" It has nothing to do with the Kumite? "If the title was not the same, you would not associate the two films?" That makes it sound like it's not a remake at all and, instead, just a way to trick people into a theater with a well-known brand. Here's more:
No splits [in the Bloodsport remake]. This is a character driven, politically motivated film. It has nothing to do with splits or muscles or grudge matches and as I said, if the title were not attached to the rights, you would not associate one film with the other.
Stepping away from that, Van Damme was talking to Next Movie about the remake (well before the above quote was uttered) and already had wind of what was sure to come:
I want to be in the film as a trainer and I don't think the writer wants [me] to...he knows that 'Bloodsport' is a big film so he wants to get credit with all of that — you know what I'm saying?
What would be wrong with giving the guy a cameo? The Expendables 2 certainly proved that while he might not look like he did 35 years ago, he's still got plenty of charisma.
And what of this remake in name only? Will it at least share the structure of a "sport" that is "bloody?"
Additional source: Coming Soon