Sequel Bits: 'Dr. Horrible 2', 'Before Midnight', 'The Hangover Part 3', 'Paranormal Activity 4', 'Beetlejuice 2'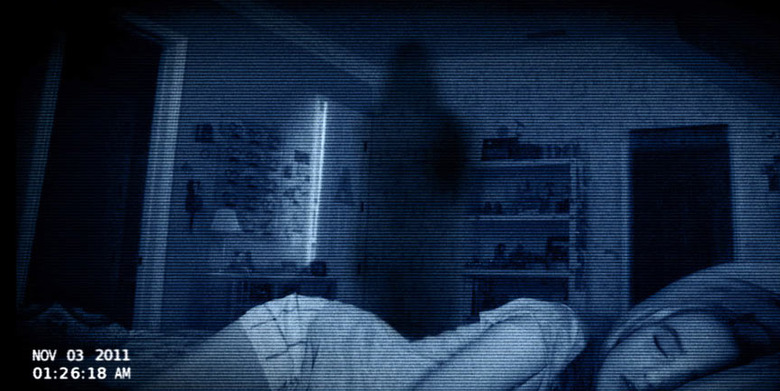 Star-crossed lovers, a sad-sack supervillain, a creepy kid, an obnoxious ghost, and a hard-partying clique all rub shoulders in this installment of Sequel Bits. After the jump:
Writer says Dr. Horrible 2 is aiming to shoot in 2013
The wolf pack returns to Caesars Palace for Hangover 3
Before Midnight eyes a festival debut in early 2013
Winona Ryder hasn't heard anything about Beetlejuice 2
Creepy Robbie is creepy in Paranormal Activity 4 trailer
When MTV inquired about the possibility of a Dr. Horrible's Sing-Along Blog 2, the scribe gave a promising response. "We're working on it," she said. "The goal is that we are going to be shooting next year, and getting the script and everything done at the end of this year. [...] So that is something that we're actually physically working on now." She then added, "We'll invent something that will make our lives difficult but we'll also have a grand time doing it."
Of course, that timetable is assuming everything goes according to plan. Whedon and Tanchareon Whedon are also collaborating on the S.H.I.E.L.D. TV series, so we can assume that's taking up a lot of their time at the moment. So in the meantime, re-visit the original Dr. Horrible's Sing-Along Blog when it hits The CW on October 9. [via io9]
For the third and supposedly last installment of Todd Phillips' The Hangover series, the wolf pack will be retracing some of their steps. The shoot is reportedly headed to Las Vegas in the middle of this month to shoot at Caesars Palace.
Fans of the original Hangover will recall that the luxury hotel / casino is exactly where the boys awoke to the morning after from hell in the first film. The Hangover Part III is filming now for a May 24 release, with original stars Ed Helms, Bradley Cooper, and Zach Galifianakis all back on board. [Before the Trailer]
Although rumors of another sequel to Before Sunrise have been floating around for a few years now, it wasn't until last fall that writer/star Ethan Hawke suggested that the possibility might actually become a reality. Now Before Midnight has already wrapped production, and director Richard Linklater says we could be seeing it as soon as early 2013.
The filmmaker revealed to the LA Times that he hopes to take the movie on the festival circuit at the start of next year. Just which events it'll show up at remains to be seen. However, it's worth pointing out that Before Sunrise and Before Sunset both debuted at the Berlin Film Festival, which falls in February each year. [via The Playlist]
Tim Burton and Michael Keaton seem more or less on board with the planned Beetlejuice sequel, but what of Keaton's former co-star Winona Ryder? The actress is keeping quiet for now about the new film — mostly, she says, because she's not really in the loop about it. "I don't really know what's going on," she said. "I know something is being written. I think I'm sort of old fashioned about not giving anything away, but there's actually nothing for me to give away!"
But Ryder seems to find the possibility interesting. After agreeing that Keaton was great in the role, Ryder continued:
I would be really interested in that because it's such an iconic movie. Again, it's the movie little kids come up to me about and when I'm going through airport security they make me say "Beetlejuice" three times or I'll miss my plane! (laughs) So, it is ingrained in us in a way. It would be very, very interesting to see. I just don't know yet what the story is. Obviously it's Michael and Tim's film, their collaboration and vision and I was just so lucky enough to be cast in it. I like to think I brought something to it.
Beetlejuice 2, which has been described as a straight sequel, is being scripted by Seth Grahame-Smith and David Katzenberg. [AICN]
With two weeks to go until its October 19 release date, Paranormal Activity 4 has dropped a new trailer featuring "Creepy Robbie" (Brady Allen). Watch it below:
Ugh, kids are the worst. Paranormal Activity 3 directors Henry Joost and Ariel Schulman return for the fourth installment of the horror franchise, which picks back up after the events of the first Paranormal Activity. Both Katie (Katie Featherston) and Hunter are set to return, and the latter may or may not be the creepy boy across the street referenced in the trailers. Kathryn Newton also stars. [Rope of Silicon]