'A Good Day To Die Hard' Photo Shows A Father/Son Outing Gone Wrong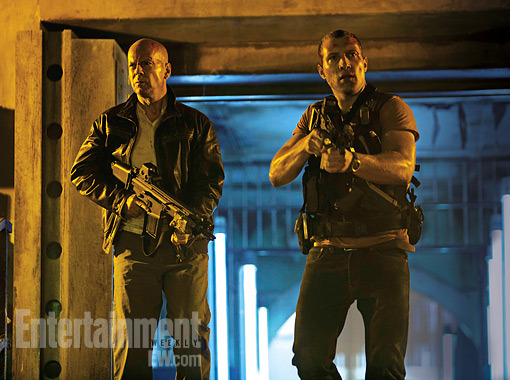 It worked for Looper, so here once again is an early image from a new Bruce Willis film in which the actor wields a powerful rifle.
In this case, the film is A Good Day to Die Hard, aka Die Hard 5, and a project that isn't likely to be even vaguely as satisfying as Looper. And this time, instead of having Joseph Gordon-Levitt on board as the younger Willis, we have Jai Courtney (Spartacus) playing Willis Jr. (Actually, he's playing the junior McClane, but close enough.) The pic puts them both in the frame during the action of the latest episode in the long-running action series, this time from director John Moore. Check out the full shot below.
EW has the pic. Jai Courtney tells the outlet,
The relationship isn't always functional. These are two guys who have been estranged for some time. John likes to wing it, see what happens. Jack's more of a strategist.
We pretty much knew that, just as we know that McClane Jr. gets in trouble in Russia, leading his father far from home base to get the kid out of danger. But it wouldn't be much of a Die Hard movie if things didn't go from bad to worse, and soon both McClanes are caught in a hail of bullets.
Courtney refuses to divulge info about the film's villain(s), with EW noting that previous odd-numbered Die Hard films find McClane up against a member of the Gruber family. That could be interesting, but I don't want to expect too much.