'Parker' Trailer: Jason Statham Is Righteously Angry, Again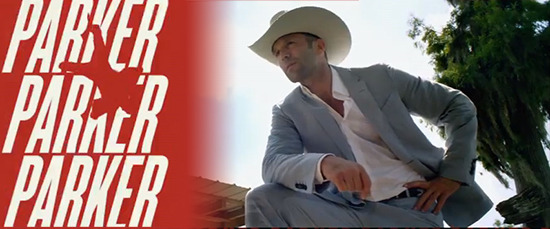 Parker is a Jason Statham action movie with a crime fiction pedigree. The film puts Statham in the role of Richard Stark's principled but vengefully violent thief Parker, betrayed by partners and left for dead, and ultimately preoccupied with revenge. Stark's character has inspired one of the all-time great weird crime movies (Point Blank, with Lee Marvin) and a couple of entertainingly straightforward takes on the genre, notably the Mel Gibson film Payback.
Directed by Taylor Hackford and co-starring Jennifer Lopez, Michael Chiklis, Wendell Pierce, and Nick Nolte, Parker seems to be another of the very straightforward takes on the character. That's not a bad thing, but neither is it terribly inspiring. Still, if you're in the market for a straight-up crime thriller with some sex and violence, this will probably do the trick.
Some of what we see there looks really rote, as in the betrayal in the car. But then there's stuff that, if not even close to mold-breaking, could be fun. It's difficult for me to get too excited about another Parker adaptation that just plays it right down the middle, as the weird wonder of Point Blank is difficult to put out of mind. But not every movie can or should play by Point Blank's rules. This might still be a good time.
Parker hits on January 25.
Parker (Jason Statham) is a professional thief who lives by a personal code of ethics: Don't steal from people who can't afford it and don't hurt people who don't deserve it. But on his latest heist, his crew double crosses him, steals his stash, and leaves him for dead. Determined to make sure they regret it, Parker tracks them to PalmBeach, playground of the rich and famous, where the crew is planning their biggest heist ever. Donning the disguise of a rich Texan, Parker takes on an unlikely partner, Leslie (Jennifer Lopez), a savvy insider, who's short on cash, but big on looks, smarts and ambition. Together, they devise a plan to hijack the score, take everyone down and get away clean.