'End Of Love' Trailer: Mark Webber's 2-Year-Old Son And Famous Friends Guide Him Through Bereavement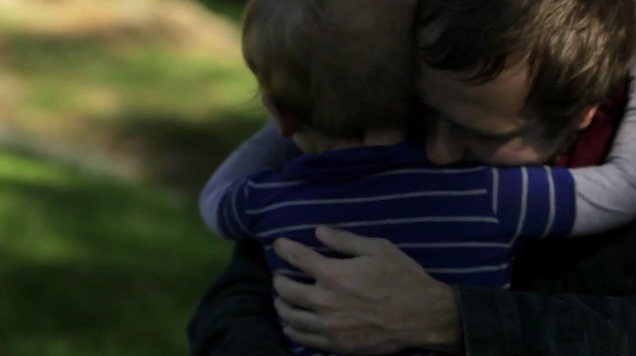 It can be tough to wrangle a truly good performance out of a child actor, for pretty obvious reasons. So it may help if the kid in question has no idea he's even acting. For his sophomore directorial effort End of Love, actor/filmmaker Mark Webber (you may recognize him as Stephen Stills from Scott Pilgrim) cast his two-year-old son Isaac without explaining to the boy that they were making a movie, and then hired some of his better known actor pals to improvise around Isaac's blissfully oblivious "performance."
Webber leads as a youngish father struggling to take care of his son as he grieves the death of his wife (Frankie Shaw, who is also Isaac's real, non-dead mom). Among the activities he engages in while trying to pull himself together are an audition with Amanda Seyfried, a party at Michael Cera's, and an awkward affair with Lydia (Shannyn Sossamon). Watch the trailer after the jump.
The heavy improvisation seems to coax naturalistic performances out of all the actors involved, and the movie's "slice of life" feel is aided by how intimate and personal it feels. Isaac's real mother is alive and well, so The End of Love isn't technically autobiographical. It is, however, grounded in reality, as Webber reportedly drew upon his experience breaking up with Isaac's mother to write and direct this movie.
The End of Love was received positively at Sundance, with some reservations. Indiewire found it "flawed but heartfelt," while THR was enamored of its "poignancy and emotional rawness." The film gets a limited release January 21.
Synopsis:
When the mother of his two-year-old son suddenly passes away, struggling actor Mark is forced to confront his shortcomings. With his fate and his son's now intertwined, he grapples with his ability to grow up – stuck between the life he once knew and the one waiting for him. When he has a meaningful encounter with a young mother, Mark is no longer able to live in the comfort of denial. Set against the backdrop of Los Angeles,this is an intimate and honest slice-of-life portrait of a father and son in transition.