New Photos: Official Shots From 'The Lone Ranger' And Comedy Anthology 'Movie 43'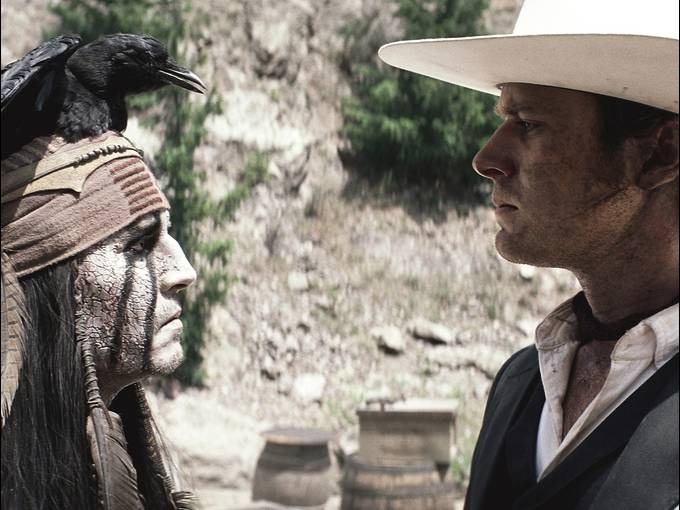 There are two big batches of official images to pass along this afternoon. One is for Gore Verbinski's The Lone Ranger, and while the pics are technically new, they don't show off much we haven't seen. That is, Johnny Depp's Tonto looks intense and more than a bit weird; Armie Hammer looks heroic and idealistic, and their world is one well-known to followers of classic Westerns.
The other batch, from the comedy Movie 43, is a bit more unpredictable. The film is a comedy anthology, with 25 shorts from almost a dozen directors: Patrik Forsberg, Peter Farrelly, Elizabeth Banks, Steven Brill, Steve Carr, Rusty Cundieff, James Duffy, Griffin Dunne, James Gunn, Bob Odenkirk and Brett Ratner. The cast includes Kate Winslet, Anna Faris, Halle Berry, Emma Stone, Terrence Howard, Jason Sudaekis, and Johnny Knoxville. The PR line on the film is that it is "not for the faint of heart," which is fairly enticing. Some of the images below give soft clues about what to expect.
First up are some official shots from Gore Verbinski's The Lone Ranger, featuring stars Armie Hammer and Johnny Depp. These build on the short teaser seen this past summer, though they don't go as far as showing off all the material that was presented at Comic Con. After a very long shoot that had more than a few delays and one tragic loss, The Lone Ranger will hit theaters on July 3, 2013.
Verbinski told USAToday,
It's a dysfunctional buddy movie. It's two guys who start literally and figuratively handcuffed together who end up on the same mission with completely different world views. They sort of rub off on one another. But they have plenty of disagreements... [Depp's Comanche Tonto] is an odd-shaman, an outcast from his own tribe, who has created his own mystical world.
Part of that world, Verbinski says, is the already-famous headpiece, which is "his companion. It's a stuffed bird that he feeds birdfeed." So there's that.
And then there's Movie 43, which comes from the guiding hand of Peter Farrelly. At EW the producer/director offers a breakdown of the scenes you'll find in the gallery above, and if nothing else I like the idea of some of the bigger names of today's film scene taking part in a comedy that could call back to some of the over the top comedy efforts of the '70s and '80s. Movie 43 opens on January 25th, 2013.
I don't know that I can do any better job describing the film than this:
Warning: This movie is not for the weak-stomached, faint of heart, or easily offended. In Movie 43, comedy is served steaming hot by director Peter Farrelly of The Farrelly Brothers (Something About Mary, Dumb & Dumber) in one of the most original comedies ever made. Starring Elizabeth Banks, Kristen Bell, Halle Berry, Leslie Bibb, Kate Bosworth, Gerard Butler, Bobby Cannavale, Kieran Culkin, Josh Duhamel, Anna Faris, Richard Gere, John Hodgman, Terrence Howard, Hugh Jackman, Johnny Knoxville, Justin Long, Stephen Merchant, Christopher Mintz-Plasse, Chloë Grace Moretz, Chris Pratt, Liev Schreiber, Seann William Scott, Emma Stone, Jason Sudeikis, Uma Thurman, Naomi Watts, and Kate Winslet, Movie 43 is jaw-dropping, uproarious, outrageous fun.