VOTD: Hollywood: A Celebration Of The American Silent Film, A 13-Part Miniseries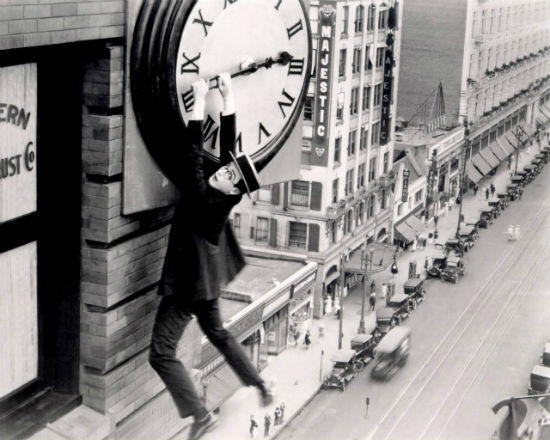 Even a super-expensive film school education doesn't prepare you for the scope and importance of the silent film era. It was a time where film was literally being figured out on the fly, conventions were being created, stars were born and a language we now take for granted was being written. The journey from film's earliest incarnation to the sound era is one marked by innumerable milestones, and a 13-part miniseries does an excellent job at putting some of that into perspective.
Hollywood: A Celebration of the American Silent Film was produced in 1980 by Thames Television. Directed by Kevin Brownlow and David Gill with narration by James Mason, the show attempts to do exactly what its title suggests: tell the history of American silent film. The entire series resides on YouTube and while you probably won't be able to finish it in one sitting, the show is a more than worthy addition to your ever expanding instant queue.
Thanks to jasondashbailey (via Rian Johnson's Twitter) for the heads up. Here's part one. You can watch the entire series here.
Here's the official description:
Here is the definitive video history of the art of the American silent film. This 13-episode documentary was literally produced in the nick of time, as many of those interviewed would be deceased in a few short years – their wonderful memories lost forever.
Produced in 1980 for Thames Television, this is certainly one of the crowning achievements of the British team of Kevin Brownlow & David Gill, who together have done so much to preserve not only the history of silent cinema, but also the actual films themselves.
The one great lesson of the series is that non-talking films were a distinct art form, complete & satisfying, which had developed a universal language, understood everywhere, through the perfected medium of mime. This was all swept away with the arrival of Talk. So complete was the dismissal of silent films (which were never really silent) that within a short period of time they would be disparaged as intrinsically valueless & technically inferior.
As HOLLYWOOD triumphantly shows, nothing could have been further from the truth. Films of enormous expertise & intense emotional impact were almost routinely created by the pioneers who were perfecting their new invention. The achievements of Silent Cinema's 35 years constitute a new cultural renaissance.
Episodes focus on such topics as Westerns, comedies, war films, stunts, camera techniques & scandals. Not only do we hear from such luminaries as Lillian Gish, Gloria Swanson, Douglas Fairbanks Jr. & even John Wayne, but we are also enchanted by the recollections of Viola Dana, Leatrice Joy, Bessie Love, Colleen Moore & Blanche Sweet, performers in danger of obscurement due to the fact that their careers were so very long ago and their films are largely unavailable or lost. Hearing Miss Dana discuss the death of the stunt pilot she loved, or Miss Joy recollecting a tender note from husband John Gilbert, or Miss Moore hilariously describing her voice lessons when talkies arrived, is to inculcate real human personalities into what would otherwise be only historical footnotes.
A parade of directors, cameramen, stunt men & theater musicians also reminisce, as do writer Adela Rogers St. Johns & choreographer Agnes de Mille, who between them seem to have been everywhere & known everyone. Even Lord Louis Mountbatten recalls his memories of halcyon days at Pickfair.
While some fans may not want to have all the mysteries revealed as to how Douglas Fairbanks & Harold Lloyd achieved some of their most famous stunts, it is still fascinating information and detracts not a whit from the stars' prestige. It is rather sad, however, to see such stars as John Gilbert, Roscoe Arbuckle, James Murray & Ramon Novarro in their prime, with the knowledge of what Fate had in store for them...
Fans of HOLLYWOOD will be pleased to know that in the decades that have passed since its production many of the silent films it highlights have been fully restored and show now to much greater advantage that the rather faded appearance they make in the documentary.
Much appreciation must go to two men whose contributions go very far in contributing to the success of the series. Carl Davis provides a wonderfully evocative score for HOLLYWOOD, his use of traditional tunes & his own lilting melodies a splendid match for what is taking place on screen. James Mason's narration is absolutely perfect – his rich voice, so warm & intimate, ironically proving that there is a place for talking pictures after all.