Martin Freeman And Eddie Marsan Join Edgar Wright's 'The World's End'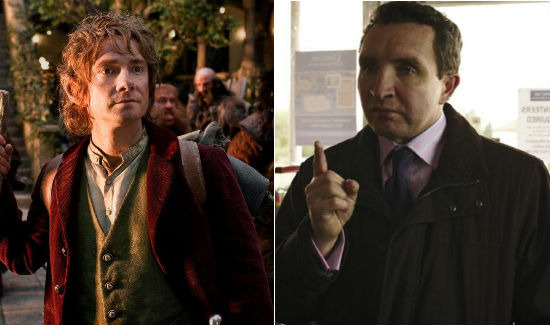 In Edgar Wright and Simon Pegg's upcoming film The World's End, five friends attempt to relive a bar crawl they did 20 years prior. We know that Pegg and Nick Frost will be two of the friends, completing the Cornetto Trilogy with Shaun of the Dead and Hot Fuzz, and recently Paddy Considine was revealed as the third. Wright has been shooting for a few weeks now, yet the identities of the final two friends remained a mystery. Empire Online is now reporting the group of friends will be completed by Martin Freeman (The Office, Sherlock, The Hobbit) and Eddie Marsan (Sherlock Holmes, V for Vendetta) making an already awesome sounding film exponentially better. Read more after the jump.
Empire Online broke the news of the casting and while they aren't sure that Freeman and Marsan roles are specifically as the fourth and fifth friend with Pegg, Frost and Considine, it's likely. Rosamund Pike is also playing the sister of one of the characters and a presumable love interest. Let's all get on the same page with the story:
20 years after attempting an epic pub crawl, five childhood friends reunite when one of them becomes hell bent on trying the drinking marathon again. They are convinced to stage an encore by mate Gary King, a 40-year old man trapped at the cigarette end of his teens, who drags his reluctant pals to their home town and once again attempts to reach the fabled pub, The World's End. As they attempt to reconcile the past and present, they realize the real struggle is for the future, not just theirs but humankind's. Reaching The World's End is the least of their worries.
Rumor has it the film turns into a sci-fi, invasion, apocalypse type movie but there's been no official confirmation on that.
Freeman is quickly becoming one of the biggest stars in the world and this film, initially rumored for release in Spring 2013, could likely be his first post-Hobbit movie. A great get for Wright. He also had a hilarious cameo in Shaun of the Dead as the alternate Shaun (which was at the height of his Office fame)
Marsan is one of those "that guy" actors that appears in a ton of movies, doesn't get a lot of recognition, but is regularaly terrifying or hilarious. Either would work in Wright and Pegg's wacky world.
The World's End is one of our most anticipated films of 2013. What do you think of the latest castings?