'Dumb And Dumber' Sequel Gets A Title, Farrelly Brothers Offer Update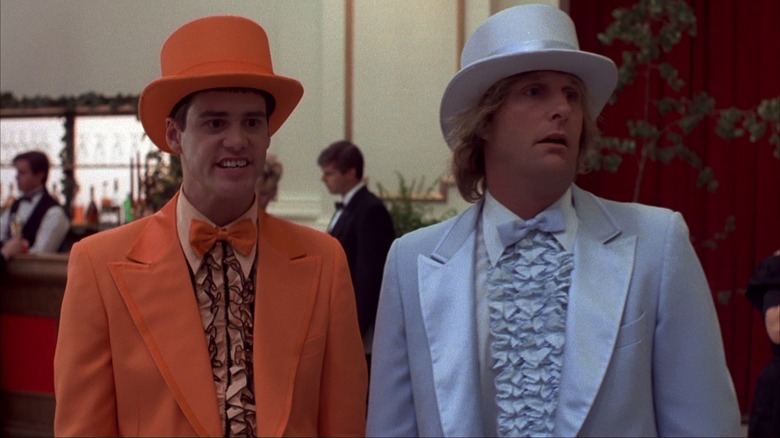 They may be dumb but they're not stupid. Nearly 20 years after its release, the 1994 hit Dumb and Dumber still remains a fan favorite. Quotes are regularaly thrown around, scenes referenced and a no-brainer sequel has long been discussed. Earlier this year, it seemed like the Farrelly Brothers were getting closer than ever, but then Jim Carrey dropped out of the film. The brothers took to Twitter Tuesday to tell fans the film was still in the works, the script is almost done, and it has a title: Dumb and Dumber To. Read more after the jump.
Here's the original tweet from the Farrellys:
You also might be interested to know that we are almost done with the Dumb and Dumber To (sic) script. I think you're going to like it.

— Farrelly Brothers (@farrellybros) September 26, 2012
A few @ responses on their page once again distance themselves from the prequel Dumb and Dumberer and said that while Jeff Daniels and Jim Carrey are not officially signed, it "Looks good" but "no announcements for a few weeks."
A few months back, Bobby Farrelly offered up a few details on their idea for the film:
I can tell you that there is no growth out of either one of them and it's 20 years later. What is funny about the original is that they're grown men who are complete losers and when the studio came to us about a sequel, we were like, 'Loads of kids are losers and they're dumb.' We didn't see any value in the sequel so we backed out of it, but now these guys are in regular life and they're still basically children at heart.
The story revolves around the fact that one of them may have sired a child. They want to go and find the child because he's having a kidney problem and he wants to ask him for one of his kidneys.
Daniels has said he'd love to do it and if he comes on board, you'd have to think Carrey would return too. With all the principals back, I think this is a sequel I can get behind, though the title is a copy editor's nightmare. What do you you?