TV Bits: 'Bates Motel', 'Justified', 'Girls', 'Terra Nova', 'The Walking Dead', 'Fringe', 'It's Always Sunny', Baz Luhrmann, Tina Fey, Christopher Guest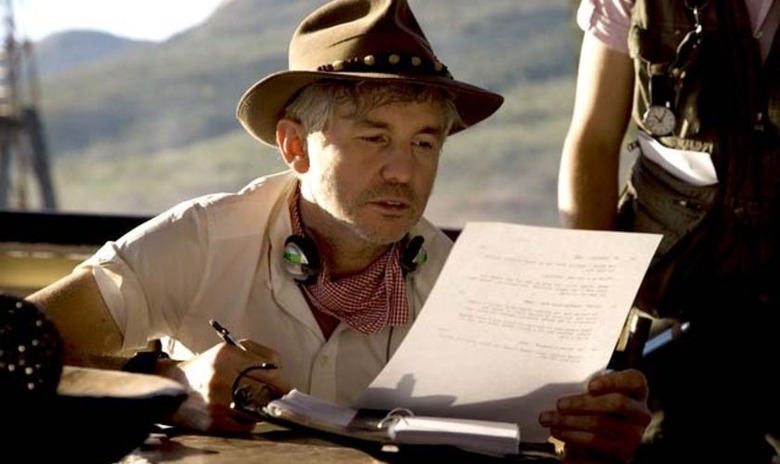 Today we have a nice mix of shows that don't even exist yet, shows that have already been cancelled, and everything in between. After the jump:
Baz Luhrmann is making his first foray into television
Tina Fey plans tostick to television after 30 Rock ends
Carlton Cuse brings Richard Alpert to the Bates Motel
Christopher Guest adds old friends to his HBO comedy
Revolution star David Meunier will return to Justified
Rita Wilson will not go naked on Girls, if you were curious
Here's what would've happened on Terra Nova Season 2
AMC offhandedly reveals The Walking Dead renewal
Fringe's final season gets an intense full-length trailer
See Haley Joel Osment in It's Always Sunny ad
Although it's Luhrmann's first move into the new medium, his deal reportedly comes after "years of exploration." "I make films very infrequently and yet I have so many ideas and stories to explore," he said. "Television at the moment has such great freedom, giving writers the ability to explore any idea and to have maximum amount of freedom to do that." [Deadline]
30 Rock may be shutting its doors after its upcoming seventh and final season, but don't expect that to be the last we see of Tina Fey on the small screen. The writer / producer / actress has just signed a four-year overall deal with 30 Rock studio Universal Television, under which she'll develop new projects and possibly star in one. While Fey has starred in occasional features like Date Night and Baby Mama, she's still best known for her TV work, which includes a nine-year stint on Saturday Night Live. [THR]Nestor Carbonell, known to Losties as Richard "Forever Young" Alpert, is checking into another creepy locale. Lost co-creator Carlton Cuse announced via Twitter that Carbonell had joined Bates Motel, Cuse and Kerry Ehrin's Psycho prequel at A&E.
Carbonell's role has not been revealed, but one obvious possibility is that he'll be playing the lover of Norma Bates (Vera Farmiga), who helps drive her son Norman (Freddie Highmore) insane. [via Screen Crush]
There's that old saying about not getting to choose your family, but if you had any say in it at all, you could do worse than to let Christopher Guest do the casting. Guest has just added frequent collaborators Fred Willard, Michael McKean, Ed Begley Jr., and Don Lake to Family Tree, his new HBO mockumentary series. The show centers around aimless 30something Tom (Chris O'Dowd), who decides to explore his heritage and discovers an oddball mix of relations.
McKean has been cast as Tom's dad Keith, while Begley will play Tom's uncle Andy and Willard Andy's neighbor Mike. Lake will guest star as a friend of Tom's cousin. Family Tree has already been picked up for eight half-hour episodes by HBO. [THR]
David Meunier is making a splash this season with a recurring role on NBC's post-apocalyptic drama Revolution, but Justified fans needn't fret. The actor is set to also reprise his role as Johnny Crowder in the new season of the FX drama, appearing in 10 out of the 13 episodes slated to air in 2013. [THR]
Last season, Girls took advantage of HBO's lax decency standards to offer NSFW glimpses of Becky Ann Baker, Peter Scolari, and of course Lena Dunham herself. But one character that won't be showing off her birthday suit in Season 2 is Marnie's mom, who'll be played by Rita Wilson.
Wilson told Us Weekly that she'd gotten the producers to agree to a no-nudity stipulation in her contract. "[They] don't want to see me nude," she said. "That's all I have to say. I'm like, 'Don't write in any nudity, please!'" The actress also added that she'd already wrapped her one-episode role, but that she hopes "there's room for [the character] to grow" in future seasons. [via THR]
After inviting fans to create their own ending for the cancelled Terra Nova, producer Brannon Braga has offered up some thoughts on where he saw the time-traveling sci-fi series going in Season 2. Of course, his ideas have a little more weight. Braga told Media Geek Network that he and his writers had already plotted out Season 2 when the plug was pulled for good.
The stuff out in the badlands, [there's] still an army out there, but we were going to find they were being massacred by what could be the possible next step in evolution for the dinosaurs. Highly intelligent dinosaurs, which we do know existed in that time... but done believably.
Then a big showdown, and Taylor was going to go crazy... The main source of conflict would be between Taylor and Jim Shannon, and a battle for control of the colony and how to deal with these new dangers.
What do you think — would those twists have been worth keeping the dino show alive a second season? [via Screen Crush]
Season 3 of The Walking Dead won't begin airing til next month, but it seems AMC's already eager to press on with Season 4. In an announcement about an American Red Cross blood drive, the cable network let slip that another renewal was definitely in the cards — the winner of the Give Blood Sweepstakes, which runs until October 22, gets a trip to visit the set of Season 4. Head to the show's official site for details on the contest. [via Boing Boing]
Those stills, teasers, and viral videos were just the beginning — the new full-length trailer for Fringe's fifth and final season looks downright insane. In a good way, I mean.
Fringe returns this Friday, September 28 on Fox. [via Screen Crush]It's Always Sunny in Philadelphia has its charms for sure, but wouldn't it be so much better if the cast were replaced by an entirely random assortment of famous people? I mean, let's face it: Rob McElhenney is fun and all, but he's no Haley Joel Osment. And Kaitlin Olsen certainly can't hold a candle to Xzibit.
For the record, I would, in all seriousness, totally watch a version of It's Always Sunny that starred Osment, Xzibit, Candace Cameron, Chael Sonnen, and Andrew Dice Clay. Make it happen, universe. It's Always Sunny returns October 11 to FX with its original cast intact. [via AV Club]