Bill Murray And Angela Lansbury Check In At Wes Anderson's 'Grand Budapest Hotel'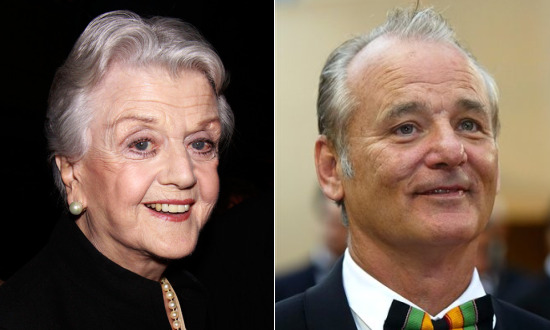 Like most filmmakers, Wes Anderson has a few stars he likes to return to time and time again. But no one's logged more time in Anderson's genteel, impeccably art-directed universe than Bill Murray, who's starred all but one (Bottle Rocket) of Anderson's seven features to date. It should come as no surprise, then, that the pair are set to reunite once again, for Anderson's upcoming The Grand Budapest Hotel.
Not that the film will be all Anderson regulars. In addition to his longtime pal Murray, the filmmaker has also just added Angela Lansbury to his lineup. The Grand Budapest Hotel marks the Murder, She Wrote legend's first time featuring in one of Anderson's movies. Lansbury and Murray join previously announced stars Owen Wilson, Johnny Depp, and Jude Law. More after the jump.
The nature of Murray and Lansbury's roles have not been revealed, but both stars have been rumored for months now. In July, Murray, Lansbury, Law, Wilson, and Depp were named among the actors Anderson had approached for his new project, along with Edward Norton, Jeff Goldblum, Adrien Brody, and Willem Dafoe. The Grand Budapest Hotel is said to be an ensemble piece, so hopefully we'll get to add a few more of those names to the confirmed list before casting is through.
Plot details on The Grand Budapest Hotel have been scarce so far, though it's been described vaguely as "a Euro movie" that draws upon the time Anderson spends living in Paris each year. In contrast to his past two films, the adolescent-centric Moonrise Kingdom and the family-oriented Fantastic Mr. Fox, Anderson has described The Grand Budapest Hotel as "not very family friendly." We expect we'll learn more as production gets underway in January.