Jay Baruchel Offers Update On 'Goon 2'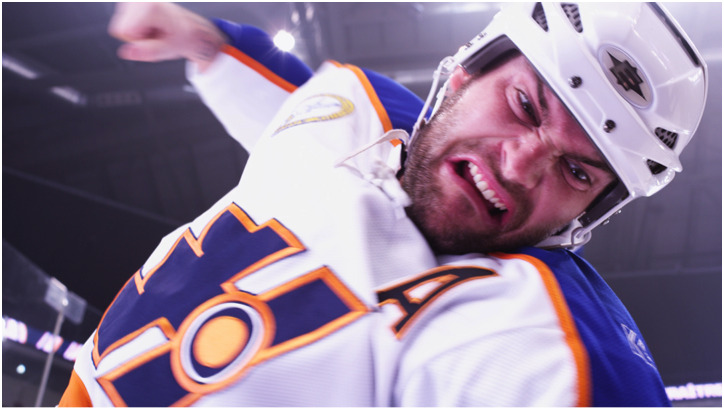 One of the early surprises of 2012 was the hockey comedy Goon. Directed by Michael Dowse and written by Evan Goldberg and Jay Baruchel, the film starred Seann William Scott as a small-time hockey enforcer whose talent for violence leads him to the big time. Not only does the film feature a classic sports story, it has heart, violence and lots of character. Debuting On Demand and then hitting theaters, the film turned a small little profit and gained a passionate fan base, one curious to see where the story would go next.
Baruchel, who also starred in the film, took to Twitter to update fans on Goon 2. He's currently co-writing it with Jesse Chabot, Goldberg will produce and Dowse will return to direct. Read his statements after the jump.
This all came from Baruchel's Twitter, @BaruchelNDG, but Collider went ahead to grabbed the several tweets and put it into one cohesive thought:
I'd like to say thank you to all of you for all the GOON 2 love. You guys are wicked. Though I do feel the need to clarify something from the last article I posted, GOON 2 will be written by @jessechabot and myself. Evan Goldberg will be involved as a producer and we will all be working our asses off to make as awesome a flick as possible.
Please know this: GOON is pretty close to sacred for all of us involved and we would only be entertaining the idea of continuing the saga if we were all equally convinced that Doug, Laflamme, Stevesy, the Russians, Rolie, Ogilvy Belchy and Eva were only getting started. We will give them and you guys the epic, violent, heartfelt awesomeness that is not just deserved but required. HIGH. LAND. ERS.
Sorry for the tweet carpet bombing, just wanted to provide context and give appropriate respect to my boy @jessechabot And YES @mdowse is directing the motherf***er! #gaypornhard
If you haven't seen Goon, you should certainly check it out. It's a very entertaining film and deserving of a sequel. Do you agree?