Will 'Ghostbusters 3' Be A Remake?; Ivan Reitman "Quite Nervous" About 'Triplets'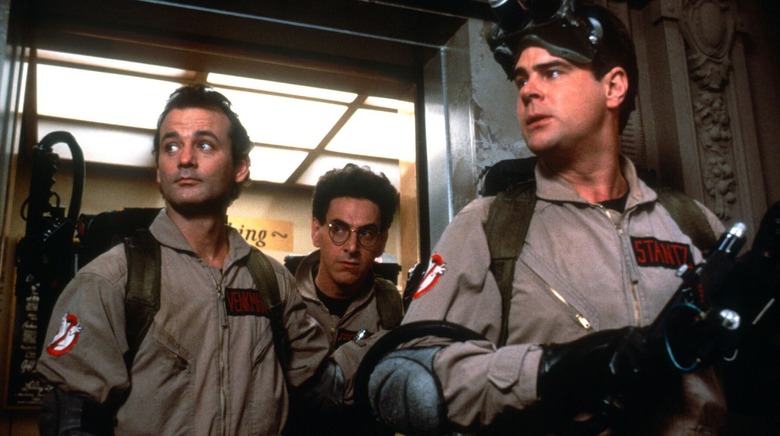 The long-gestating Ghostbusters 3 got yet another new lease on life over this summer, when Sony hired Etan Cohen to give the script another rewrite. As of July, it looked like Cohen would be sticking with the same premise we've been hearing about for years now: "original castmembers Harold Ramis, Dan Aykroyd, Ernie Hudson and Bill Murray passing the torch to a new generation of ghostbusters." We assumed that'd mean the old Ghostbusters would be on hand to teach the tricks of the trade to a new group of colleagues. But could the torch-passing be a reference to a remake instead?
In a recent interview, original director Ivan Reitman talked about getting Ghostbusters "remade." In addition, the director expressed his worries about Triplets, the impending Twins sequel. Read his comments after the jump.
Asked whether it was "strange" for him to be working on sequels of Ghostbusters and Twins, Reitman responded: "Well, I'd like to go forward and make new things. I think Ghostbusters probably should be remade, if we can get it all right. We're working on it, so we'll see."
As far as we've known up to this point, Ghostbusters 3 hasn't been a remake, but a straight sequel that introduces a new team. So is Reitman's choice of wording a big hint about the plotline, or did he simply misspeak? At this point, we simply don't know enough about the script to say. It's also possible that the truth is somewhere in between. Maybe Ghostbusters 3 shares enough similarities to the original Ghostbusters that it's a de facto remake in Reitman's head even if it's technically not a do-over. Or perhaps Reitman's referring the the new movie's status as the start of a new story arc.
In any case, Reitman at least seems eager to get going on Ghostbusters 3, which is more than he could say for the Twins sequel. "With Triplets, I'm quite nervous about it. I think it's somebody's commercial idea, and usually that's a scary thought," he said. "There's no writer, and there's no idea yet. I think that was more of a press release than anything else." That suggests the previously rumored Eddie Murphy-as-long-lost-triplet is still far from confirmed, or even that it's been scrapped altogether.