New Poster For 'The Hobbit: An Unexpected Journey' Fits In With Previous Trilogy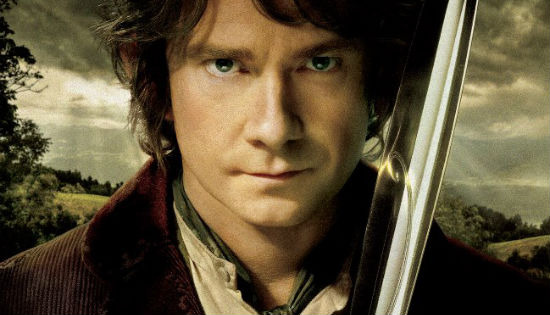 Over the weekend, Peter Jackson posted the first official teaser poster for The Hobbit: An Unexpected Journey. Bilbo Baggins (Martin Freeman) is front and center, Sting in hand, and though the poster is brand new, it feels oddly familiar. Maybe that's because it's the exact same pose and framing as some of the Jackson's Lord of the Rings trilogy teaser posters. Check out the new image, as well as the old ones, after the jump.
Thanks to Jackson's Facebook for the new poster, which you can see right here.
If it feels familiar, that's because it's very similar to the teaser posters for The Lord of the Rings: The Fellowship of the Ring in 2001 and The Lord of the Rings: The Return of the King in 2003. (The Two Towers teaser was of the towers so it doesn't quite fit.).
This was obviously done on purpose and I'm probably a little too excited about it. One of the great things about Jackson coming back for The Hobbit was that we all felt these films would fit in seamlessly with the Lord of the Rings trilogy to make one huge, cohesive set of films. Then we heard about 48 frames per second, 3D and the extended, additional story. It was a bit worrisome. With this poster, though, you can see that Warner Bros. has the continuity in mind and wants to evoke nostalgic feelings and subconscious recognition in the legions of fans that turned Lord of the Rings into three massive, massive hits. Hopefully Jackson follows suit. We'll find out December 14.
What do you think of the poster?