Remake Bits: 'Robocop', 'Carrie', 'Evil Dead', 'The Flamingo Kid', 'Jar City', 'A Bittersweet Life'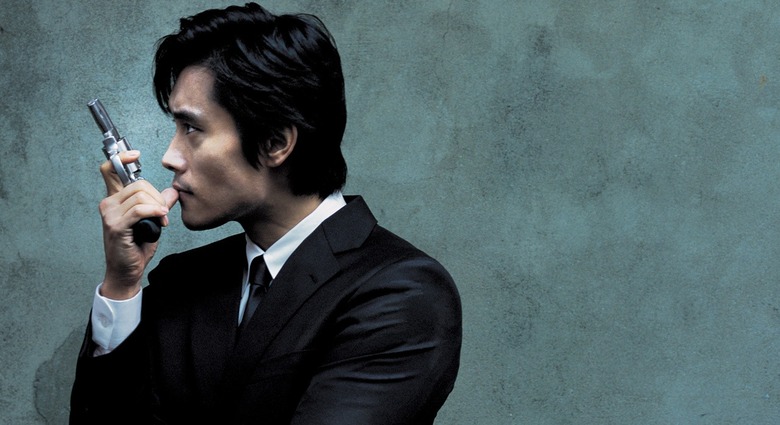 Whatever the box office numbers indicate, I'm inclined to believe there are plenty of original ideas left in Hollywood... but you won't find them here, because this post is all about the remakes. After the jump:
More Robocop pics; Aimee Garcia joins cast
Get first looks at Carrie and Evil Dead at NYCC
Allen Hughes is remaking A Bittersweet Life
Game of Thrones director will remake Jar City
Brett Ratner is producing Disney's Flamingo Kid
Meanwhile, though we got an eyeful of Robocop's new suit last week, we now a better look at his face thanks to a fresher batch of set photos. Based on these pics, he bears a striking resemblance to Kinnaman. Imagine that. We also have peeks at a few vehicles used in the film, and Kinnaman's movie wife Abbie Cornish.
NO PHOTOSRobocop hits August 9. [Bleeding Cool, THR]
With shooting finally wrapped for both Carrie and The Evil Dead, Sony is preparing to offer glimpses of the two films next month. The studio will present first looks of both at New York Comic Con, in a panel on Saturday, October 13.
Stars Chloe Grace Moretz and Julianne Moore, producer Kevin Misher, and director Kimberly Peirce will be in attendance to represent Carrie, while the Evil Dead portion will feature star Jane Levy, producer and original star Bruce Campbell, and director Fede Alvarez. Carrie will open first next spring, on March 15, followed by Evil Dead on April 12. [Coming Soon]
The Hughes brothers rose through the Hollywood ranks together, collaborating on projects like From Hell and The Book of Eli. But next year's Broken City marks Allen Hughes' first feature effort without Albert, and now it seems he likes flying solo. Hughes has just signed up to direct A Bittersweet Life, Fox and New Regency's remake of the 2005 Korean crime drama by Jee-woon Kim.
Anthony Packham, who worked with Hughes on Book of Eli, is writing a fresh draft of the English-language version. The plot centers around a mob enforcer assigned to shadow his boss' mistress and find out if she is having an affair. If she is indeed being unfaithful, his orders are to kill both her and her lover. Instead, the protagonist winds up falling for the young woman himself. Uh-oh. [Deadline]Game of Thrones direct Brian Kirk is breaking out of his usual TV fare to helm a remake of the Baltasar Kormákur's Jar City. Itself an adaption of a novel by Arnaldur Indriðason, the Icelandic crime drama follows a veteran detective looking for links between a recent homicide and an unsolved 30-year-old rape case.
The American remake has been in the works for some four years now, but got derailed when production company Overture Films went kaput. Now it's being developed by David Linde, with Kormákur also on board to produce. Kirk has only directed one feature to date — 2006's Middletown — but in the past year has been attached to or rumored for a number of big-screen projects, including Paper Wings, Midnight Delivery, and The Osterman Weekend. [LAT]
Not content with simply letting Marvel and Pixar churn out all the hits, Disney's been digging back into its vault for properties of its own to remake. Last month, it was eyeing the possibility of a Rocketeer reboot, and now it's getting the ball rolling on a remake of The Flamingo Kid. Brett Ratner and Michael Phillips are on board to produce, with Nzingha Stewart (executive producer, For Colored Girls) set to write the script.
The original 1984 comedy was directed by Garry Marshall, and starred Matt Dillon as a recent high school grad who gets a job at the swanky Flamingo Club. He falls hard for the rich and privileged lifestyle, but eventually comes to appreciate his working class roots. [Deadline]