'Life Of Pi' International Trailer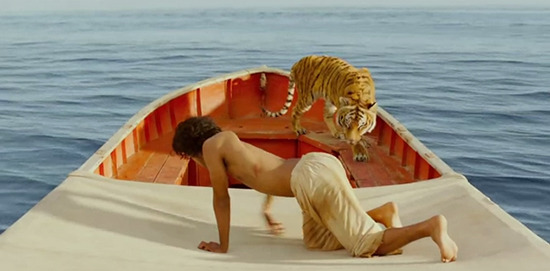 After a great deal of time in development, during which multiple directors tried to crack the story, Yann Martel's novel Life of Pi was filmed by director Ang Lee, with newcomer Suraj Sharma in the role of Pi, a boy who is stranded at sea in a lifeboat with a man-eating tiger for company. There's a bit more to the story than that, but I'll let you get some idea of the further story from the new international trailer that is online now.
This trailer uses a bit of Coldplay to provide a big emotional backing that the footage doesn't really need. Lee seems to have created a big, glossy, illustrated storybook of a film with images that have more than enough power on their own. Life of Pi hits on November 21, at which point we'll see if the film truly works either as an adaptation of the novel or as a standalone entity. But in the meantime, this trailer features a good bit of new footage.
Director Ang Lee (Brokeback Mountain, Crouching Tiger, Hidden Dragon) creates a groundbreaking movie event about a young man who survives a tragic disaster at sea and is hurtled into an epic journey of adventure and discovery. While marooned on a lifeboat, he forms an amazing and unexpected connection with the ship's only other survivor — a fearsome Bengal tiger.