'42' Trailer: The Life And Times Of Baseball Legend Jackie Robinson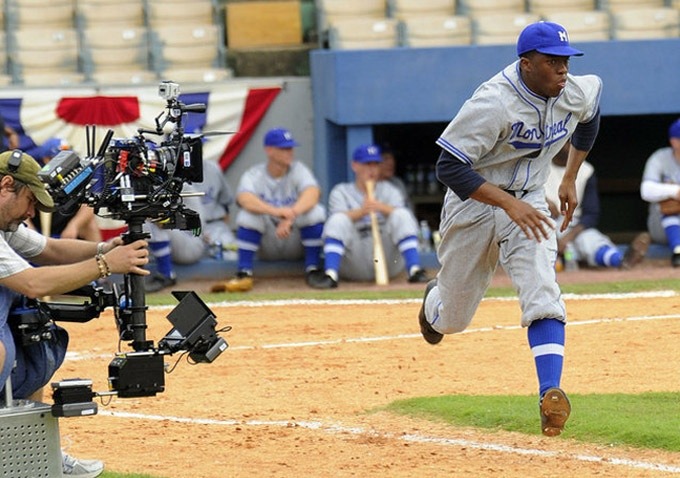 If ever the story of an athlete deserved to be told in a major motion picture, it's the story of Jackie Robinson. The man who broke the color barrier in Major League Baseball not only broke cultural and social ground; he was one of the best people to ever play the game of baseball.
In every baseball stadium in North America his number, 42, is retired. That number is also the title of writer/director Brian Helgeland's upcoming biopic, which opens on April 12, 2013. Chadwick Boseman plays Robinson and Harrison Ford plays the Brooklyn Dodgers executive Branch Rickey, who is credited with stepping up and doing something no one had ever done before: hire an African American baseball player for their team.
Check out the powerful teaser trailer for the film after the jump.
Watch the trailer in full HD over on Apple, but here's an embed.
I have a feeling many people might feel a bit averse to the use of Jay-Z's music in the trailer, because it creates such a huge disconnent from the half-century old story that's being told. Obviously not only is that the point, it will get across to audiences who many not be familiar with Robinson that his importance has spanned generations and is still significant today. At least, I hope that people get that meaning. I think it works for sure.
42 opens April 12, 2013. What did you think of the trailer?
Warner Bros. Pictures and Legendary Pictures are teaming up with director Brian Helgeland for "42," the powerful story of Jackie Robinson, the legendary baseball player who broke Major League Baseball's color barrier when he joined the roster of the Brooklyn Dodgers. "42" will star Academy Award(R) nominee Harrison Ford ("Witness") as the innovative Dodger's general manager Branch Rickey, the MLB executive who first signed Robinson to the minors and then helped to bring him up to the show, and Chadwick Boseman ("The Express") as Robinson, the heroic African American who was the first man to break the color line in the big leagues.