Sequel Bits: 28 Months Later, Avatar 2, Catching Fire, Scary Movie 5, Expendables 3, Jack Reacher, Police Story
Franchises return, franchises go away and franchises start a new in today's Sequel Bits.
James Cameron might add Chinese Na'vi to Avatar 2.
The said to be soon-retired Jackie Chan might make Police Story 2013.
A major party scene in The Hunger Games: Catching Fire will film in Atlanta.
Charlie Sheen and Lindsay Lohan share a bed in the first still from Scary Movie 5.
Paramount is hoping Tom Cruise's Jack Reacher will start its own franchise, and mark the beginning of a franchise focus at the studio.
Producer Avi Lerner keep mentioning names he wants for The Expendables 3: Clint Eastwood, Harrison Ford, the return of Mickey Rourke etc.
A sequel to 28 Days Later and 28 Weeks Later, 28 Months Later, no longer looks likely.
Avatar 2 and 3 are certainly coming, but James Cameron isn't rushing. So while he's writing the scripts and setting up production houses he's also looking way into the future in regards to technology and finance. He talked a lot about shooting at a higher frame rate and he also believes that China will, in the next five years, be as lucrative a movie marketplace as North America. To try and get ahead of the curve on this potentially huge audience, Cameron told The Hollywood Reporter he's seriously considering not only Chinese humans but Chinese Na'vi in the sequels.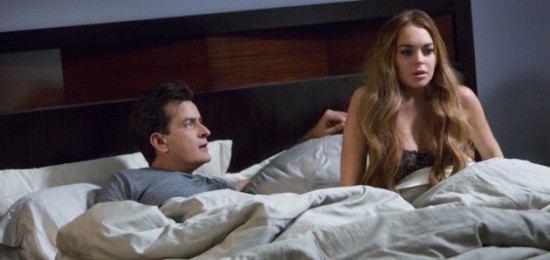 The first image from Scary Movie 5 has been released and it's of the highly publicized opening to the film with Charlie Sheen and Lindsay Lohan sleeping together. Thanks to Movieline for the image.
Twitchfilm reports that despite Jackie Chan insisting he's getting ready to retire, he's set up a new addition to one of his most popular franchises. Chan is attempting to make a film tentatively called Police Story 2013 with director Ding Sheng. The China Vision Media Group announced it at a recent press event. Would you show up  to see Chan still kick ass?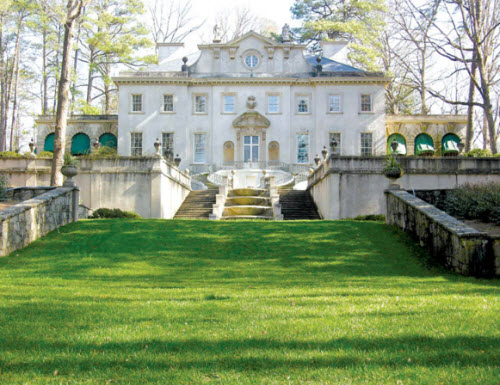 This is the Swan House in Atlanta, GA. It'll be the set of the big Capitol party scene in The Hunger Games: Catching Fire, which just began shooting recently. On Location Vacations has all the info including how you can possibly be an extra. It'll take place next weekend.
The CEO of Viacom was speaking to investors about Paramount Pictures' upcoming slate and he made the almost way-too-obvious statement that they want Jack Reacher, Tom Cruise's Dec. 21 action film based on a book by Jim Grant, to start a franchise much like Jack Ryan. He also said "We reduced the number of releases to about 15 a year and focused on existing franchises, developing new franchises, and developing our brands." Does that mean they're only going to do franchises now? Read more at Deadline.
Avi Lerner, producer of The Expendables 2, spoke to Total Film and said the following about his Expendables 3 wishlist:
We've approached Clint Eastwood to be one of the guys, we've got a character in mind for him. We're talking to Harrison Ford. [And we want] Wesley Snipes when he comes back from prison. I'll give you one more name, we've got Nicolas Cage to play [one of the characters]. And we're going to bring Mickey Rourke back, if he won't be too crazy. I like Mickey. And of course, all the existing stars [will return]
Alex Garland, the writer of Dredd 3D, spoke to Dread Central about one of his earlier screenplays, 28 Days Later, and whether or not a third film in the series was looking likely, something director Danny Boyle suggested he'd be interested in:
I'm still so proud of 28 Days Later and how well it's been received over the years so I appreciate that. But in regards to another movie, no – there are no plans for a 28 Months Later or whatever they were calling it. This is a series I've always been heavily involved with between the original and the sequel so if there were plans for another movie, I would absolutely know about it.