'Nature Calls' Red Band Trailer: Patton Oswalt Takes On Johnny Knoxville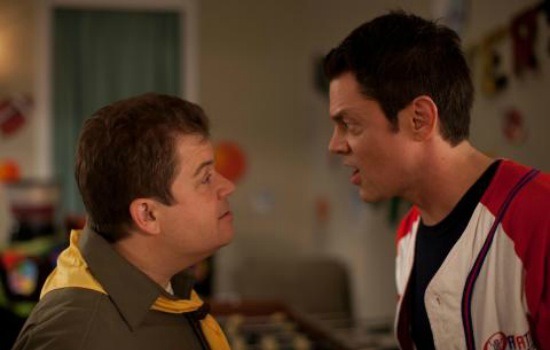 When the new red band trailer for Nature Calls came online, I started watching it and something felt off. Thirty seconds in it hit me. Not only had I already seen this movie, I disliked it immensily and had all but removed the memory from my brain. But it's all coming back to me now. The film features an incredible cast of people you might really like – Patton Oswalt, Johnny Knoxville, Rob Riggle, Maura Tierney, Darrell Hammond and the late, great Patrice O'Neal – doing their best to give director Todd Rohal's script about sibling rivalry and the Boy Scouts some consistency and humor. They fail. Quite spectacularly.
Hopefully, though, you won't take my word for it. Hopefully you'll look at the fantastic cast, be intrigued by plot and decide for yourself when Nature Calls his on-demand October 4 and theaters November 9. Check out the red-band trailer below.
Thanks to Yahoo for the trailer.
Since I think I've already done enough trashing of Nature Calls, I'm just gonna throw in one more link to my review from South by Southwest. Read it and decide if I'm nuts or not based on the above. Here's the plot description from SXSW:
Determined to honor his father's scouting legacy and mount one last comeback for his dwindling troop, Assistant Scoutmaster Randy Stevens (Patton Oswalt) pays a visit to his business-minded brother Kirk (Johnny Knoxville), who is throwing a television-themed slumber party for his newly adopted 10-year-old son at his McMansion. Randy pressures the boys to secretly ditch the party and join him on a weekend scout trip. Pursued by Kirk and his security guard (Rob Riggle), the adventure lands the boys in trouble at every turn, pits them against angry parents and park rangers, yet ultimately turns the group of sheltered kids into a troop to be reckoned with.