'The Collection' Trailer: When 'Saw' Met 'Aliens'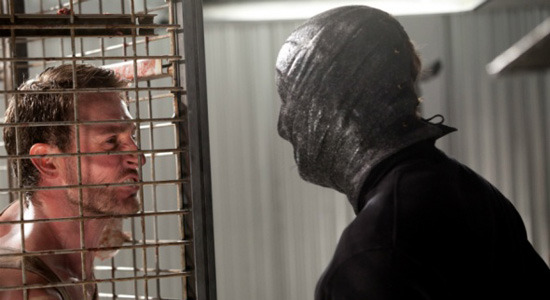 The so-called "torture porn" genre is mostly dead, but has given way to a sort of action-adventure horror that fuses elements of that particular vision of horror with other ideas. That seems to be the slot in which to place The Collection, which comes from Saw IV-VI writers Patrick Melton and Marcus Dunstan. The latter also directs, and the film is his sequel to the 2009 effort The Collector.
The story kicks off with a girl (Emma Fitzpatrick) going to a secret party that turns into a murder spree for a killer known as The Collector. Her father hires a merc crew to retrieve her, and the film seems to go down the Aliens path, as the team recruits Arkin (Josh Stewart), the one guy who escaped the Collector's lair to guide them in an effort to take him down.
A new trailer shows off some of the action and murderous ideas at play in the film; check it out below.
Looks fairly silly, but it is beautifully shot, and I can see some good action coming out of the setup. And I love Dunstan's playfulness in his intro, even as the poster (below) suggests that there is far more twisted stuff in the film than what the trailer offers.
The Collection premieres at Fantastic Fest, and opens in the US on November 30. Yahoo has the trailer.
When Elena's (Emma Fitzpatrick) friends take her to a secret party at an undisclosed location, she never imagined she would become the latest victim of The Collector, a psychopathic killer. The Collector kidnaps and transports her to an abandoned hotel he's transformed into his own private maze of torture and death. Upon learning of his daughter's disappearance, Elena's wealthy father (Christopher McDonald) hires a group of mercenaries to retrieve her from the vicious grips of The Collector. These mercenaries coerce Arkin (Josh Stewart), the only man to have escaped the wrath of this heinous monster, to lead them through the gruesome labyrinth. Now, Arkin finds himself fighting for his own life in order to save Elena. "The Collection," directed by Marcus Dunstan and written by Dunstan and Patrick Melton, is a suspense horror film with nonstop thrills at every turn, starring Josh Stewart (The Dark Knight Rises), Emma Fitzpatrick (The Social Network), and Christopher McDonald (Requiem for a Dream).