See More Footage From Coen Bros. Scripted Remake Of 'Gambit'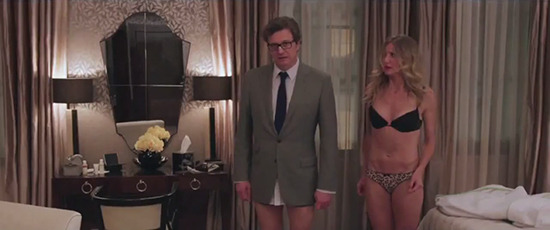 Just because Joel and Ethan Coen wrote a movie doesn't mean it will turn out well (see Sam Raimi's early effort Crimewave) but I've still had hope for Gambit. That's in part because the original film is a great bit of fun; it stars Michael Caine as an art thief who recruits a nightclub girl (Shirley MacLaine) to assist in a very specific heist. The original features some wonderful role reversals and simply well-executed scenes, and I hoped that with a script from the Coens the remake might follow suit.
The remake stars Colin Firth and Cameron Diaz in altered versions of the original lead roles, with Alan Rickman as the guy they're trying to rip off. UK show Lorraine premiered the trailer for Gambit, and we've got an embed below that shows most of the footage. Not as good as a legit version of the full trailer, but it'll do as a start — at least when it comes to making me worried that the film won't be all that great.
Alan Rickman looks like the most fun there, but I'm hoping that, in the spirit of the original, there's a lot more to the Cameron Diaz character than what we see here. That could be the case, and so I'm going to continue to hold out hope that this version works.
Michael Hoffman (Restoration, A Midsummer Night's Dream) directed Gambit, which opens on November 21 in the UK. No US date is set at this point. [Bleeding Cool]