'About Cherry' Red Band Trailer: James Franco Helps A Young Girl Get Into Pornography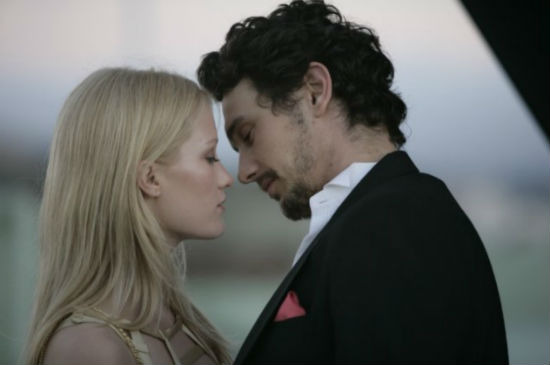 On the long list of professions people are surely curious to learn more about, you'd have to think "pornography" is near the top of the list. The taboo explicit sex genre has been at been the focus of interesting movies of all tones: dramatic (Boogie Nights), comedic (Zack and Miri Make a Porno) or real life (Inside Deep Throat). A new addition to that list, Stephen Elliot's About Cherry, tries to give the industry a real-world dramatic view. Its been on the festival circuit for the majority of the year, is currently on demand, and opens in limited release this week.
Ashley Hinshaw plays a young girl who gets slowly seduced into the world of pornography and sees it change everything around her. A decidedly NSFW red band trailer is now on line featuring lots of nudity as well as supporting performances from James Franco, Heather Graham, Dev Patel and Lili Taylor. Check it out below.
Thanks to The Playlist for trailer.
src="http://www.indiewire.com/embed/script.jsp?videoId=cf071580-feb1-11e1-baf1-22000a1d0930&width=480">
The trailer certainly looks interesting, especially because the devolution of a young, beautiful, innocent girl is topic that's so ripe for drama. Plus you'd have to think with Elliot being a first time filmmaker, the script was likely quite good to get such a great supporting cast. But reviews out of festivals weren't stellar so I guess it's a roll of the dice. Did the trailer make you interested?
Here's the plot description:
Angelina (Ashley Hinshaw) is an 18-year-old on the verge of finishing high school, rushing to escape her broken family life. After reluctantly taking nude photos at her boyfriend's (Jonny Weston) behest, she takes the cash to skip town with her best friend (Dev Patel). Angelina gets a job cocktailing in a San Francisco strip club where she meets Frances (James Franco), an affluent lawyer who introduces her to a high-class world beyond her wildest dreams. At the same time, Angelina begins exploring San Francisco's porn industry, using the moniker Cherry, under the wing of a former performer turned adult film director (Heather Graham).