TV Bits: 'The Office', 'Bates Motel', 'Arrested Development', 'Vegas', 'Girls', 'Californication', 'Shameless', 'The Walking Dead', Emmys, And More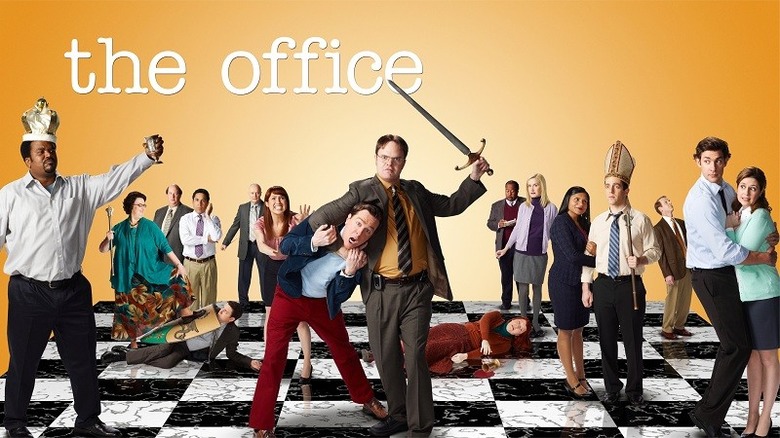 Today's TV Bits consists of a bit of casting info, some scheduling notes, and several interesting promos. After the jump:
Bates Motel casts the Charlie & the Chocolate Factory kid as Norman
Isla Fisher and Terry Crews have been added to Arrested Development
Breaking Bad's Jonathan Banks will go gangster on CBS' Vegas
Shameless, House of Lies, and Californication return in January
HBO and CBS lead the Creative Arts Emmys with 17 and 13 wins, respectively
Revisit familiar faces in the first teaser for Season 2 of Girls
See The Office's newest additions in a new promo for Season 9
Still more American Horror Story: Asylum teasers hit the web
Everyone is exhausted in new Walking Dead teaser and stills
Bates Motel follows Norman's teen years, showing how the twisted relationship between the boy and his mother drives him to murder. The show will premiere in 2013. [TV Guide via Shock Till You Drop]
Over the past few weeks, we've watched as one recurring Arrested Development character after another has stepped up to reprise their role. But the new season will see the Bluths making a few new friends (or enemies) as well.
Isla Fisher and Terry Crews are joining a growing contingent of series newcomers that also includes Workaholics' Adam DeVine, Anders Holm, Blake Anderson, and Mad Men's John Slattery. Fisher and Crews' characters have yet to be revealed, but it's tough to see the addition of these guys as anything but a good thing. Arrested Development's fourth season hits Netflix in spring 2013. [Zap2It via Vulture]
Walter White may not be a big fan of Mike Ehrmentraut, but TV casting directors apparently are. Just days after he was cast as Adam Scott's dad on Parks & Recreation, former Breaking Bad star Jonathan Banks has booked yet another new gig on CBS' Vegas. The period drama stars Dennis Quaid as real-life Nevada sheriff Ralph Lamb as he grapples with mobsters and other unsavory characters in the 1960s.
Banks will feature in a multi-episode arc as "Angelo, a big-time Chicago gangster who travels to the gaming oasis to ensure his Nevada-based cash flow continues. Though Michael Chiklis' Savino wants him to expand in Vegas, Angelo's not interested." Vegas premieres September 25 on CBS. [TV Line]
With Weeds officially behind us as of last night's finale, Showtime is lining up a new Sunday night schedule for winter. Shameless, House of Lies, and Californication are all set to return January 13, with Shameless' Season 3 premiere kicking off the proceedings at 9:00. That episode will be directly followed by House of Lies' Season 2 premiere at 10:00, then Californication Season 6 at 10:30. [TV Overmind]
The Primetime Emmys won't air until this coming Sunday, September 23, but the Creative Arts Emmys ceremony took place this past weekend. HBO led all networks with 17 wins, while CBS' 13 awards put it ahead of all broadcast networks.
Among the big winners were Kathy Bates, Jeremy Davies, Jimmy Fallon, and Martha Plimpton for guest acting, Martin Scorsese for nonfiction directing, and Childrens Hospital for short-format live-action programming. Click here to read the full list of winners.
The first teaser for Season 2 of HBO's Girls is really more of a glorified behind-the-scenes video, as all it really shows is the cast and crew back at work on the show's Brooklyn set. But isn't it nice to see our favorite gang of rudderless 20somethings again?
Girls Season 2 premieres January 2013. [YouTube]
Wheres the Girls teaser was all about familiar faces, the promo for Season 9 of HBO's The Office shows off some new ones. Clark Duke and Jake Lacy will feature in the first episode, "The New Guys," as Clark and Pete — or, as Stanley calls them, "the new Dwight and Jim." Much to the original Dwight and Jim's dismay, from the looks of it.

The Office's ninth and last season kicks off this Thursday, September 20 on NBC. [TV Guide via Screen Crush]
I ran out of things to say about these American Horror Story: Asylum promos a long time ago, but while we're looking at TV teasers I figured I might as well toss these in. Presented more or less without comment are "Spiral," "Awakening," and "Door."
American Horror Story: Asylum debuts October 17 on FX. [YouTube via Screen Crush]
And speaking of spooky, get an eyeful of the new teaser for Season 3 of AMC's The Walking Dead. Everyone looks awfully tired, but I guess it's tough to get a good night's sleep when you're in the middle of a full-scale zombie apocalypse.
[via The Playlist]
Rick Grimes and his ragtag group look no less exhausted in the new batch of stills.
The Walking Dead starts October 19. [TV Line and Yahoo via The Playlist]