Sequel Bits: 'The Hobbit: An Unexpected Journey,' 'Fast And Furious 6', 'Scary Movie 5,' 'Beetlejuice 2,' 'The Hangover Part III,' 'Atlas Shrugged Part 2'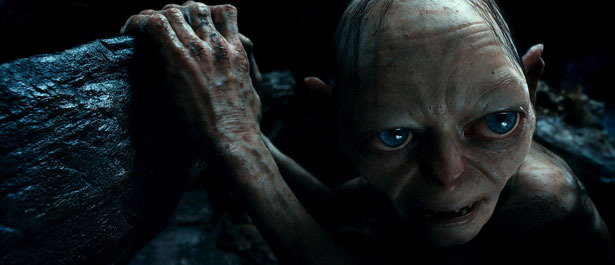 This week marks not only the 75th anniversary of The Hobbit, but also the shared birthday of Bilbo and Frodo Baggins. It's Tolkien week so we've got lots of Hobbit and more in today's Sequel Bits. After the jump read about the following:
Six new photos from The Hobbit: An Unexpected Journey have been revealed.
Peter Jackson reveals a new Hobbit trailer will be released Wednesday.
Winona Ryder is aware Beetlejuice 2 could possibly happen.
Check out a stunt from the set of Fast and Furious 6.
Two major stars will apparently have sex in Scary Movie 5.
The Wolfpack is going to Arizona in The Hangover Part III.
On Peter Jackson's Facebook Page, he revealed this is going to be a big week, especially with a new trailer for The Hobbit: An Unexpected Journey premiering Wednesday, September 19. Here's the video:
He was probably also referring to the fact that USA Today premiered these six new images from the film.
And it probably didn't hurt that The Hobbit Blog posted a character gallery for you to acquaint yourself with. Obviously check back Wednesday for the new trailer.
Winona Ryder, who starred in Tim Burton's 1988 film Beetlejuice alongside Michael Keaton, Geena Davis and Alec Baldwin, spoke to Canoe at the Toronto International Film Festival and revealed that yes, she's heard of it. No, she doesn't know if there's a part for her. Here's the quote:
I heard (about the sequel) from journalists, that's how I found out, but I'm seeing Tim next week, and I will let you know....I'm trying to think about how that would work. Obviously I'm not (the focal point), it's got to be Michael (Keaton). So is it happening? It's being written, but is it happening? Tim hasn't confirmed it (officially) yet.
Justin Lin's Fast and Furious 6 is currently filming and Tumbaabierta.com (via AICN) snagged some photos of a bunch of crazy, tank like vehicles and this really cool set video of what seems to be the beginning of an on road heist. Bad ass stuff.
We'd heard that both Charlie Sheen and Lindsay Lohan would be appearing in Scary Movie 5 and now, according to gossip sites like Perez Hilton, we know they'll be sleeping with each other. Here's a quote from an insider:
Charlie and Lindsay filmed a love scene. The scene they were shooting for the movie was of them in bed together. Lindsay was a great sport. She was poking fun at herself, and she really got into it and seemed to enjoy it. They were ad-libbing, [and] shared some playful pillow talk during shooting. They were joking that they've both had a lot of issues over the past couple of years. Lindsay was scared by a sound effect, and actually jumped into Charlie's arms. But everything went smoothly and surprisingly on schedule.
Don't believe that making movies is possible? Atlas Shrugged Part 2 will be released next month, despite many impediments to its existence. IMP Awards has a new poster, which is 100% better than the one released along with the trailer.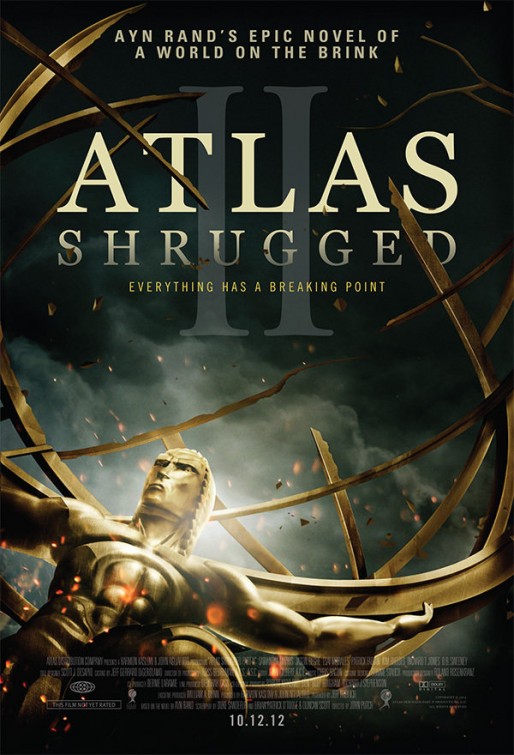 The Hangover Part III is currently filming in Los Angeles with plans on stopping in Las Vegas, Tijuana and more. One odd place that's recently popped up on the location list is Nogales, Arizona. The Todd Phillips-directed production will be there in October according to On Location Vacations. What's in Nogales? Not much, it just so happens to be a town on the border of Mexico. Perhaps some sort of international incident or illegal immigration will occur?