'Knuckleball' Clip: Watch An Exclusive Scene From The Baseball Documentary Out Today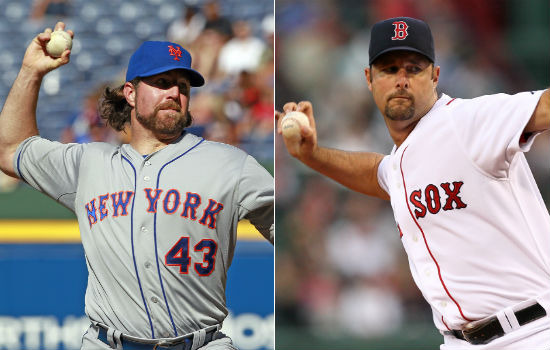 September is a great time to be a sports fan. College football is in full swing, the NFL is just getting started and Major League Baseball teams are fighting for their postseason lives. This September in particular, and today to be specific, sports fans have something even more exciting to look forward to as well. A documentary called Knuckleball, directed by Ricki Stern and Annie Sundberg (Joan Rivers: A Piece of Work) was released today, both on demand and in select theaters.
The film tell the history of baseball's most scrutinized and joked about pitch, the knuckleball, through the personal struggles of pitchers Tim Wakefield, formerly of the Boston Red Sox, and R.A. Dickey, currently of the New York Mets. It's a fascinating, inspirational documentary that will please both baseball and non-baseball fans alike. But especially baseball fans. And out of those, especially Red Sox and Mets fans.
/Film is proud to premiere an exclusive clip from the film. Check it out after the jump along with some other thoughts on the movie.
Here's an exclusive clip from Knuckleball, which gives a good idea of the access the filmmakers had to the subjects and quality of the production.
Visit the official Knuckleball site to find out how you can watch this movie right now. It's available on all the digital formats – iTunes, YouTube, Amazon, etc. –  as well as most On Demand services.
And if you'd like to see the film theatrically, it opens in Boston today and New York on Thursday before rolling into other theaters. All that information, including ticket links, are also on the official page.
I'm a huge baseball fan and, more than that, a Mets fan, so it was going to take a lot for me to dislike Knuckleball. Thankfully, not only is it not a stinker, it's pretty fantastic. The way the filmmakers take such a small baseball story and develop it into a human drama with these two fantastic players was truly captivating and emotional. Add that to the way it contextualizes the pitch and its history and the film delivers on almost every level.
Check out Knuckleball. You'll be glad you did.