Gallery: Scott C's 'Great Showdowns' Return To Gallery 1988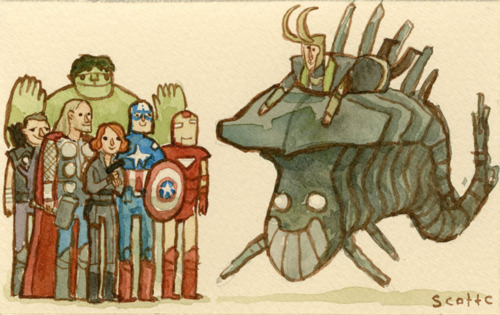 If you've ever dreamt of seeing your favorite, obscure little movie made into art, odds are Scott Campbell has done it. For several years now, on an almost daily basis, Campbell creates a Great Showdown. The concept is simple. Pick a movie, pick two opposing forces in that movie, and paint it on a small, five inch high canvas. Here on /Film, we've been posting them for a while, so you're likely familiar with Campbell's style. If not, you can see it in the not-so-obscure Avengers Showdown above.
What began as a small part of larger shows continued to grow until, in 2011, Campbell was able to create a full Showdowns show at Gallery 1988 in Los Angeles. It was a sight to behold. Two walls filled with hundreds of clever, funny, exciting, surprising, insert-adjective-here Showdowns for what seemed to be every single movie imaginable. Since then, Campbell has continued to make Showdowns, has a book coming out, and is about to unveil his second Great Showdowns show, on display September 21 through October 13.
Almost 250 brand new Showdowns from 18 plus months will be at the show and, after the jump, you can check out my twenty favorites, find out how you can visit the show from anywhere in the world and more.
Scott C's Return of the Great Showdowns opens from 7-10 p.m. September 21 at Gallery 1988 Melrose, 7020 Melrose Ave., Los Angeles, CA. If you miss the opening, it'll be on display through October 13 and you can get more information here. Also, if you aren't in Los Angeles, Campbell plans to do a streaming tour/hangout at the gallery on Saturday September 22 at 3 p.m. PST at this link right here.
In addition to the 250 or so original Showdowns, there will be a limited edition print set (featuring showdowns for Willy Wonka and the Chocolate Factory, Shaun of the Dead, Scott Pilgrim vs. the World, Pan's Labyrinth and The Muppets. Check them out here.) a set of coasters, a contest for a free Showdown of your choosing and an early release of Great Showdowns book.
But let's get to my twenty favorite Showdowns on display at the show. These were all found on GreatShowdowns.com, which is where Campbell posts all of the Showdowns. If you peruse the site, you'll actually see almost every image that's in the show. I went back well over a year and picked out 60 that I absolutely loved. Stuff like Indiana Jones and the Temple of Doom, Return of the Jedi, Empire Strikes Back, E.T., Ghostbusters, Karate Kid, Spaceballs, Jurassic Park, great stuff. But out of that list, I decided to feature these twenty either because they're even better than the rest or they are for movies that – unlike the ones above – don't usually get art made for them. Which is why Scott C's Great Showdowns are so great.
Which of those are your favorite? Can you name them all without mousing over?
Scott C's Return of the Great Showdowns opens from 7-10 p.m. September 22 at Gallery 1988 Melrose, 7020 Melrose Ave., Los Angeles, CA and remains on display through October 13. Get more information here. Also, head to www.livestream.com/scottlava on Saturday September 21 at 3 p.m. PST for a fun event live from the gallery.