Michel Hazanavicius In Talks, Natalie Portman Courted For Tom Hanks' Nazi Germany Drama 'In The Garden Of Beasts'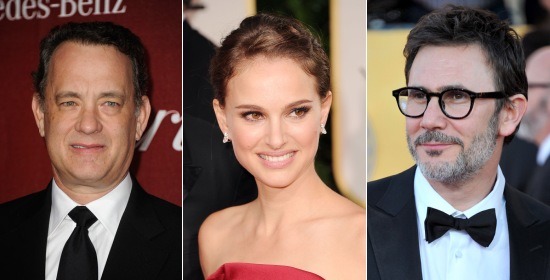 It's not remotely fair to call a film Oscar bait when it's not even close to shooting, but when a project combines an Oscar-winning director, two Oscar-winning stars, and a World War II premise, it's tough not to wonder whether little gold men are in its future.
The Artist director Michel Hazanavicius has entered talks for In the Garden of Beasts, based on a book by Devil in the White City author Erik Larson. Tom Hanks has been attached to star and produce since last year, but the project's only now picking up steam as Hanks has been tied up in other projects. That means casting is now underway as well, and producers currently have their eye on Natalie Portman to play Hanks' daughter. More after the jump.
Daughter Martha (Portman's possible role) takes particularly well to Berlin's vibrant scene, falling into a string of affairs with Third Reich and Gestapo men. But as Hitler's persecution of the Jews worsens, Dodd tries to make his worries known to his government employers, only to be met with indifference. Gradually, he comes to realize the full scope and horror of what Hitler has planned for Germany.
Although Hazanavicius is only in talks at this point, Deadline suggests the odds are high he'll sign on. The project is currently seeking a writer who'll work with Hazanavicius on a new draft. Portman's involvement, on the other hand, seems more tenuous. Hanks and Goetzman are said to be courting her for the role, but she's yet to start serious negotiations. We can likely expect a decision in one direction or the other soon, as Universal Pictures considers the project a priority.