'Halloween' Heads Back To Theaters In October; 'Raiders Of The Lost Ark' Theatrical Run Extended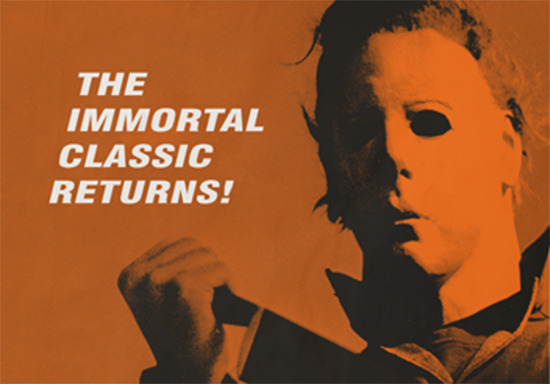 The practice of theatrically rereleasing classic films seems to be picking up steam, and the latest to get new theatrical bookings is John Carpenter's 1978 film Halloween. Carpenter's movie solidified the slasher genre and wrote much of the roadmap for '80s horror. It is one of the most successful independent films ever released, and for a long time was one of the most profitable movies, period, as it made nearly $50m in the US alone based on a budget of a couple hundred thousand dollars.
On October 25 the movie will hit theaters again. A list of theaters will be released today, so check that link over the next couple hours for more info. Other than that we don't have many more details on the rerelease, but you can see the new poster for the film after the break. There you can also get info on the fact that Paramount also announces that "due to popular demand," the Raiders of the Lost Ark theatrical re-release has been extended from a one-week run to a 300-theater booking starting today.
Here's the poster, from Halloween Movies via Dread Central: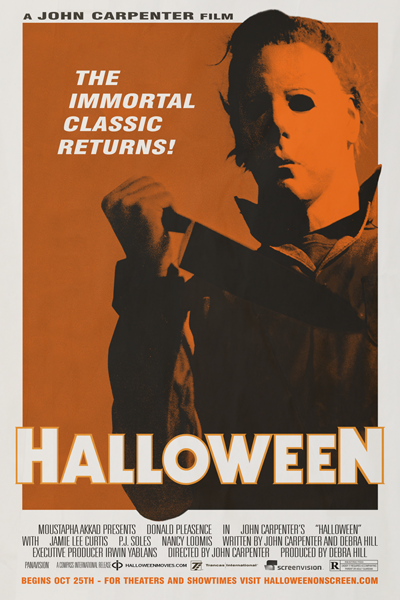 And here's the press release from Paramount with all the Indy info. Note that this seems to mean that the film will be in non-IMAX theaters, which means slightly cheaper ticket prices, just in case you were put off by the idea of seeing the movie blown up to digital IMAX over this past week.
DUE TO POPULAR DEMAND, NEWLY RE-MASTERED "RAIDERS OF THE LOST ARK" WILL BEGIN AN EXTENDED THEATRICAL RUN THIS FRIDAY
 THE FILM WILL PLAY IN MORE THAN 300 THEATERS ACROSS THE U.S. AND CANADA FOLLOWING ITS SUCCESSFUL ONE-WEEK ONLY IMAX ENGAGEMENT 
LOS ANGELES, CA (September 14, 2012) – Due to the extraordinary response for the newly re-mastered "RAIDERS OF THE LOST ARK" during its one-week IMAX engagement, Paramount Pictures Corporation, a division of Viacom, Inc., has announced that the film will have an extended theatrical run beginning Friday, September 14.
The unforgettable and beloved film from director Steven Spielberg and executive producer George Lucas will play in more than 300 digital theaters across the United States and Canada.  Tickets can be purchased now. Check your local listings for participating locations and showtimes.
"The re-mastering efforts by Steven, George and their team were incredible and the movie's hugely successful run in Imax last week was a sure sign that audiences were excited to see the film again on the big screen. We are thrilled that audiences will have that chance again as part of this extended theatrical run," said Rob Moore, Vice Chairman of Paramount Pictures.
"RAIDERS OF THE LOST ARK" was released for an exclusive one-week engagement in select IMAX® theaters on September 7, 2012.  Under the supervision of Spielberg and renowned sound designer Ben Burtt, the film was meticulously restored with careful attention to preserving its original look, sound and feel for a highly-anticipated release in theaters and on Blu-ray.
"INDIANA JONES: THE COMPLETE ADVENTURES" debuts on Blu-ray September 18, 2012 from Lucasfilm Ltd. and Paramount Home Media Distribution with seven hours of fascinating bonus material, including a brand new two-part documentary titled "On Set with Raiders of the Lost Ark – From Jungle to Desert and From Adventure to Legend."  Featuring nearly an hour of rarely seen footage from the set of the film and archival interviews with Steven Spielberg, George Lucas and Harrison Ford, this captivating piece transports fans back to where the legend began.