Larry David's HBO Movie Titled 'Clear History'; Jon Hamm, Michael Keaton, Bill Hader, Amy Ryan, And More Set To Star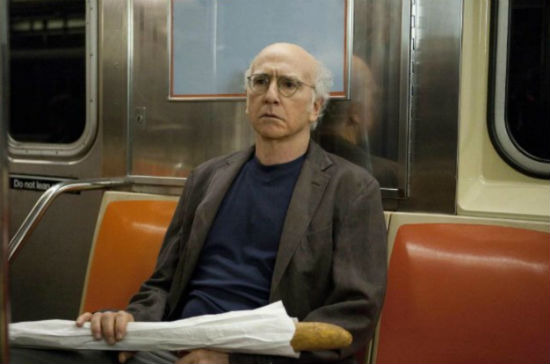 We already know what Larry David's new film will be about (a marketing exec who misses out on a lucrative startup) and how it'll be distributed (on HBO). Now we also know what it'll be called and who'll star in it.
According to a new report, the movie's now going by the name Clear History, and the cast contains a healthy mix of comedians and non-comedians. In addition to David and the previously rumored Jon Hamm and Michael Keaton, the confirmed cast also includes Bill Hader, Danny McBride, Philip Baker Hall, Amy Ryan, Kate Hudson, Eva Mendes, and JB Smoove. More after the jump.
THR got the scoop on Clear History's title and casting. As of August, the lineup was still being sorted out, so all of the additions seem to be fairly recent. Everything we've heard about the movie so far suggests it'll be right in David's usual wheelhouse of uncomfortable, semi-improvised comedy, and the cast list seems well suited for it. Some, like McBride, Hader, and Smoove, are known primarily for their comedy work (the latter co-starred with David in Curb), whereas others like Ryan and Hamm are versatile actors who've switched easily betwen comedy and drama.
David co-wrote the screenplay with Alec Berg, David Mandel, and Jeff Schaffer, all of whom have previously worked on Curb Your Enthusiasm and Seinfeld. Berg, Mandel, and Schaffer will executive produce as well, along with Mottola and Bradley Thomas. With the cast in place, Clear History is now preparing to shoot this fall in Massachussetts.
As reported last month, David plays a marketing exec who loses his stake at an electric car startup when he and his boss (Hamm) have a falling out. He then suffers further humiliation when the startup he walked away from explodes into a multi-billion-dollar company, and winds up losing his wife and his good reputation. A decade later, he's moved to an island off the coast of Massachusetts to start a simple new life under the assumed name Rolly. When Hamm's character arrives to renovate his summer home, Rolly decides to get his revenge.