Cool Stuff: New Pixar Vinylmations Including 'Monsters University,' Plus 'Oz The Great And Powerful' And 'The Lone Ranger'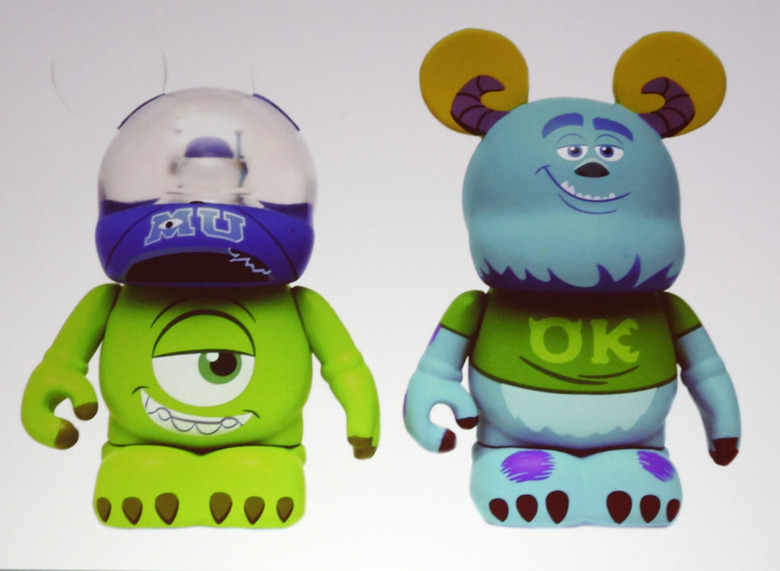 Disney collectors lose their minds for Vinylmations: three inch tall molds of Mickey Mouse painted in all kinds of different ways. Some Vinylmations are simply just artistic designs, others are specific to certain places or brands, but they're only sold in Disney parks and stores. That, along with some characters being rarer than others and entire lines being regularly retired, make for very collectible pieces of Disney merchandise.
Disney has just revealed the latest set of Vinylmations and it's focused on their tiny animation studio in northern California: Pixar. Characters from all of Pixar's movies have been adapted into the Vinylmation mold from A Bug's Life, to Wall-E, Finding Nemo and Ratatouille. There's even a set for 2013's Monsters University, seen above, as well as Oz the Great and Powerful and The Lone Ranger. Check them all out after the jump.
Thanks to 
and 
 via
for the images.  Here they are.
Disney has made Pixar Vinylmations before, when Toy Story 3 came out, but this is the first time characters from the other films are being immortalized in the format. Which is great because most of these movies (Cars excluded) don't have a ton of merch available.
All of these, except for Monsters University, should be available in November at Disneyland and Disney World. There's no word if they'll make it to Disney stores. The Monsters University, Oz and Lone Ranger's will likely be released everywhere in March 2013.
Every time I go to Disney I buy a Vinylmation to commemorate the trip, so I'm a minor collector. However, there's a massive, massive community surrounding these things. Disney cranks new ones out all the time and it creates a frenzy. If you like these, I warn you, it can be a scary and expensive hobby. No worse than posters, but still. I wouldn't recommend that either.
Which of the Pixar Vinyls is your favorite?